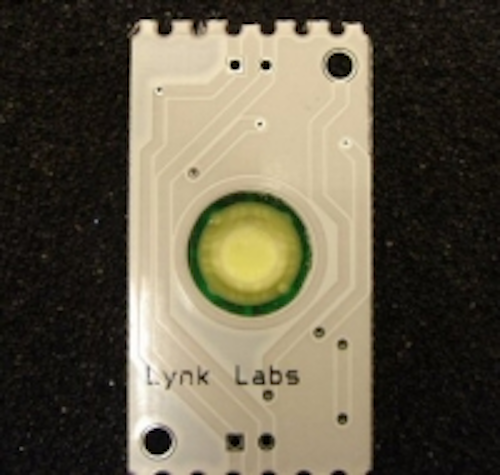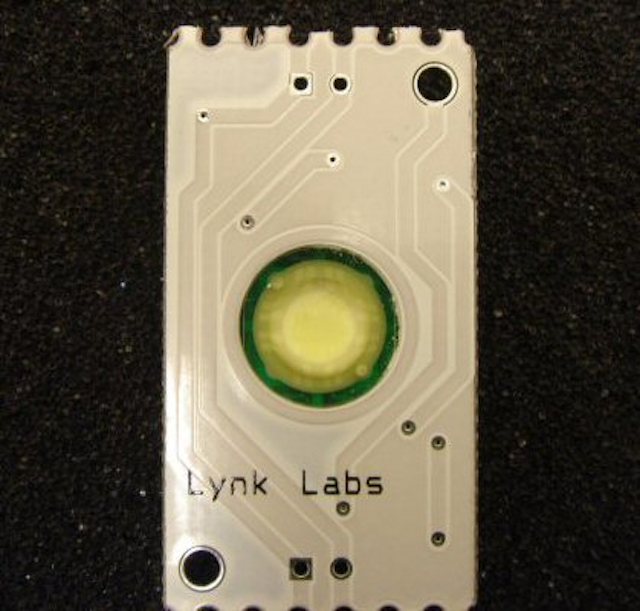 Date Announced: 08 Nov 2006
Elgin, IL – Lynk Labs introduced the SnapBrite(TM) SB-6500 Module at the Intertech LEDs 2006 conference late October in San Diego. The SB-6500 modules are the industry's first 1-watt AC LED packaged device based on Lynk Labs AC LED technology integrated into a discrete module.
Independent on-board drivers provide improved system reliability using parallel drive that is compatible with AC power infrastructures. The SB-6500 module adapts Lynk Labs' unique AC LED technology to the new Citizen Electronics 1.2-watt Orion LED, delivering up to 70 lumens per watt based on color temperature.
The SB-6500 series of SnapBrite modules are also available with advanced thermal management carriers made of Cool Polymers thermal conductive polymer materials.
SnapBrite AC LED Modules, Assemblies & Carriers, used with Lynk Labs' patent pending BriteDriverTM on-board/off-board driver and power supply solutions, provide improved electrical and mechanical design flexibility, scalability and simplified integration solutions for LED lighting OEM's and integrators.
"The Lynk Labs AC LED technology in SnapBrite modules offers a modular lighting solution for a wide variety of luminaire as well as lighting applications and takes LED product design and integration back to bulb & ballast simplicity," said Bob Kottritsch, VP of Marketing & Product Development of Lynk Labs.
Lighting designers and OEM's presently buy bulbs and ballasts, and connect them together to create luminaire designs. The emergence of LED solid-state lighting technology presents the challenge of needing to fully understand LED semiconductor, packaging, thermal management, drivers and power supplies in order to develop solid-state lighting product lines.
Lynk Labs developed SnapBrite to deliver the "bulb & ballast" simplicity the lighting industry is used to and needs, in order to adopt and integrate LEDs through fully scaleable, modular AC LED and drive solutions. This is expected to significantly accelerate lighting product development and time to market while simplifying system integration into the AC infrastructure for installers.
SnapBrite series products are available in standard and custom AC voltage options with BriteDriver on-board drivers or off-board power supplies, delivering a plug n' play total solution.
The individual SB-6500 modules are available in warm (2900K) and cool (5000K) white and priced from $7.50 - $9.00 (based on the on-board BriteDriver) in 10,000 piece quantities. The SB-6500 series SnapBrite modules also come standard in 3, 6, 12 and 18" linear modules. Individual SB-6500 module samples are available to qualified OEM customers. Custom lengths, colors and package configurations are available, please contact Lynk Labs for further information.
About Lynk Labs, Inc.
Lynk Labs Inc. is a leader in the research, development, engineering, manufacturing and marketing of AC LED technology solutions for the lighting industry. Lynk Labs intellectual property and products are offered to OEM partners and lighting product suppliers to develop competitively designed and user-friendly solid state lighting strategies.
Contact
LYNK LABS, Inc. - Corporate Headquarters 2511 Technology Drive, Suite 108, Elgin, IL 60123, USA Phone: +1 (847) 783-0123 Fax: +1 (847) 783-0130 LYNK LABS, Inc – Europe Office Unit 10 The Hollies,Shefford Beds SG17 5BX UK Tel: +44 (0) 1462 851653 Fax: +44 (0) 1462 287608
E-mail:info@lynklabs.com
Web Site:http://www.lynklabs.com