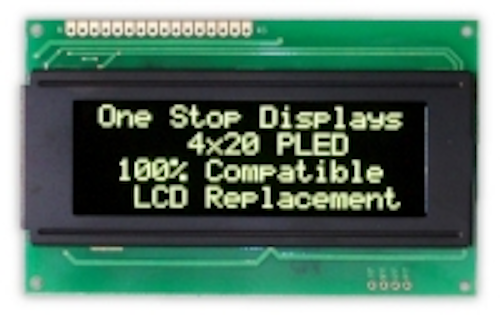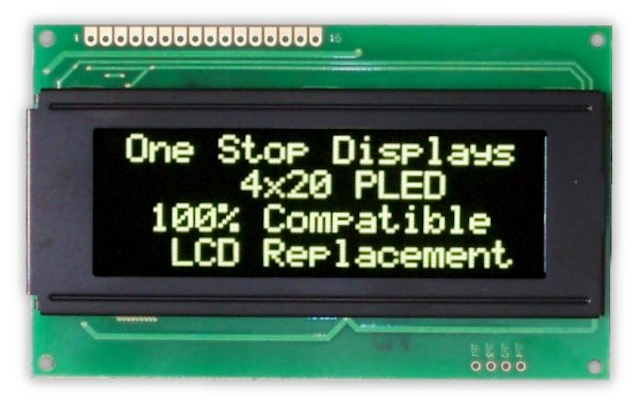 Date Announced: 08 Nov 2006
20x4 High Contrast Ratio and Low Power Polymer LED (PLED) Ideal for battery, solar or other low-power systems.
Winter Park, FL September 15, 2006 - One Stop Displays (OSD), the Florida-based developer of advanced display devices has developed the first 20 character by 4 line large molecule PLED module.
This innovative design is the largest character PLED offered in the industry, and features an industry standard LCD-compatible control interface (Samsung KS0066 and Hitachi HD44780 4-bit and 8-bit mode compatible).
The OSD2004M01 design is mechanically equivalent to standard LCD based 20x4 character display modules. Its mounting points and data interface locations allow easy integration into existing designs. It requires only a single power supply and will operate on logic voltages from 2.8V to 5.0V. The PLED character display module is efficient and draws less current than an equivalent array backlit LCD display.
The display features a highly-uniform vibrant image with brightness of up to 100 nits. The PLED display offers over 100:1 contrast ratio, and virtually no viewing angle limitations. Another benefit of emissive PLED technology is that contrast and response times are unaffected by temperature.Excellant for indoor and outdoor products. This displays is also offered in Cyrillic font table.
Display features exceptionally low current consumption and high contrast ratio, making it idea for battery, solar or other low-power systems. Brightness is software controllable over the serial interface.
1k pc price: $16.00 each
Contact
One Stop Displays 310 Genius Drive Winter Park, FL 32789 USA TEL : 1-(407)-629-0500 FAX : 1-(407)-645-0797
E-mail:sales@onestopdisplays.net
Web Site:http://www.onestopdisplays.net