i-Vision supplies LED lights for the RAF Museum
Nov 13th, 2006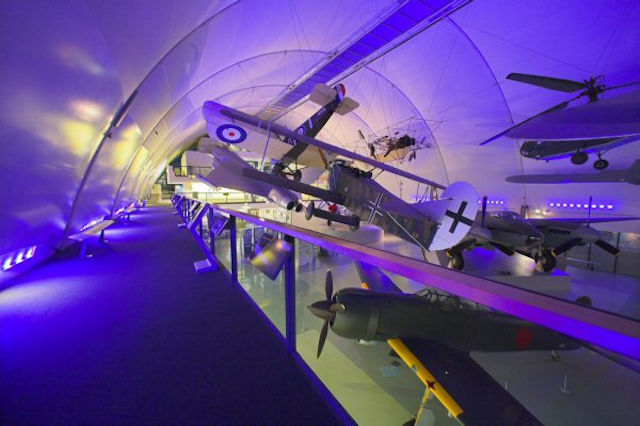 Date Announced: 13 Nov 2006
i-Vision has supplied 144 modules of its Lumos Link RGB LED system and two of its new Lumos Drive 216 controllers to the RAF Museum in London.
The fixtures were specified and purchased by Sean Penn, the Museum's AV engineer after i-Vision was highly recommended by The Society of TV Lighting Directors, who staged an event at the Museum.
Penn was looking for a lighting effect to enhance the "Milestones of Flight" building, which tells the story of flight and from balloons and the first powered flights, complete with some impressive pieces of military hardware, right up to the Eurofighter.
The hangar has an arched tensile roof is also used for corporate events, dinners, awards ceremonies and functions of all types. They wanted a permanent lighting installation that would add a touch of subtle elegance, warmth and panache to the general evening ambience for these events. "We basically wanted something a bit 'special'. Apart from that there was limited power available … so LED was an ideal option" says Penn.
The project was handled for i-Vision by Luke Dodd. He and Penn discussed the exact requirements and Dodd advised on the appropriate product. All the business and technical advice was done over the phone, "i-Vision proved incredibly efficient and well informed" comments Penn, "They know their products and could not have made things easier".
Dodd comment's, "It was excellent to be involved with a venue as prestigious and interesting as this"
Lumos Link is a system of 1W Cree LEDs that's ideal of all types of commercial lighting applications, offering easy installation and control, energy efficiency and long life.
The two Lumos Drive 216's were programmed with bespoke chases and scenes which can be selected for a variety of looks. They were chosen because they offer straightforward and versatile control and the creation of great effects using just one system. They also have a DMX control option, allowing the Lumos Link strips to be integrated into any additional effects lighting that might be brought in for functions and events if required.
Penn is delighted with the results. He undertook the installation himself, "it couldn't have been simpler" he comments, attaching 6 groups of 12 Links per side neatly to the walls with cable trunking. The Linksxq produce a nice warm glow which delicately infuses the environment after dark, casting different shades, tones and textures across the exhibits.
The lighting has been a great hit with the clients elucidates Penn, who says that everyone appreciates the gentle but effective approach. There's been so much positive feedback that they are now considering adding to the lighting installation in the future.
Contact
i-Vision: tel. 01291 630883
E-mail:Info@ivisionuk.com
Web Site:http://www.ivisionuk.com