Micrel introduces boost regulator to drive series WLEDs
Jan 10th, 2006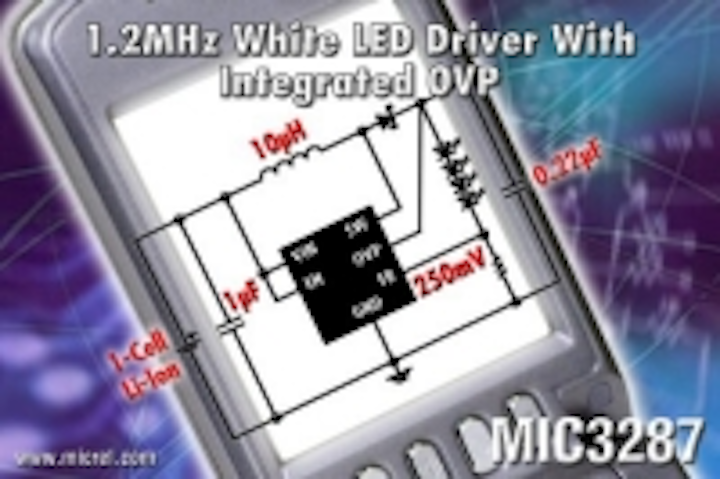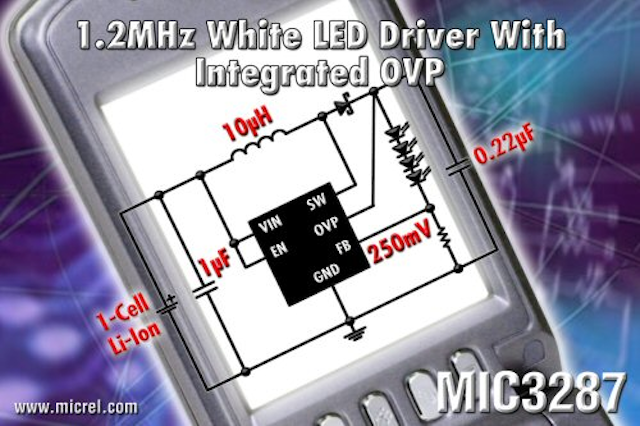 Date Announced: 10 Jan 2006
San Jose, Calif., Jan. 9, 2006. Micrel Inc., (Nasdaq:MCRL), an industry leader in analog, high bandwidth communications and Ethernet IC solutions, today launched the MIC3287, a 1.2MHz pulse width modulated (PWM) boost-switching regulator optimized for driving series white LEDs.
The new IC targets backlighting applications in mobile phones, PDAs, GPS systems, digital cameras, MP3 players and IP phones. The MIC3287 is currently available in volume and pricing starts at $0.75 for 1K quantities.
"The white LED backlighting market remains one of the most competitive arenas in the industry," noted Ralf Muenster, Micrel's director of marketing for power products.
"Our goal is to offer ever-higher levels of efficiency and functionality while bringing our customers the most value for their money. The MIC3287 integrates an over-voltage protection function that gives manufacturers real value because competitive solutions require a discrete circuit, which increases the size and cost of the solution."
With a maximum output voltage of 24V and a switch current of over 350mA, the MIC3287 drives a string of four white LEDs in series, ensuring uniform brightness and eliminating several ballast resistors.
The IC features 1.2MHz PWM operation for small output filter size, 250mV feedback for high efficiency and over-voltage and over-temperature protection for safety. The MIC3287 comes in low profile TSOT-5 and TSOT-6 packaging options as well as a 2.x 2 MLF™ 8L packaging for space-conscious applications.
About Micrel, Inc.
Micrel Inc., is a leading global manufacturer of IC solutions for the worldwide analog, Ethernet and high bandwidth markets. The Company's products include advanced mixed-signal, analog and power semiconductors; high performance communication, clock management, Ethernet switch and physical layer transceiver ICs. Company customers include leading manufacturers of enterprise, consumer, industrial, mobile, telecommunications, automotive, and computer products. Corporation headquarters and state-of-the-art wafer fabrication facilities are located in San Jose, CA with regional sales and support offices and advanced technology design centers situated throughout the Americas, Europe and Asia. In addition, the Company maintains an extensive network of distributors and reps worldwide.
Contact
Julieanne DiBene Director, Marketing Communications Micrel Inc. 1-408-474-1276
E-mail:Julie.DiBene@Micrel.Com