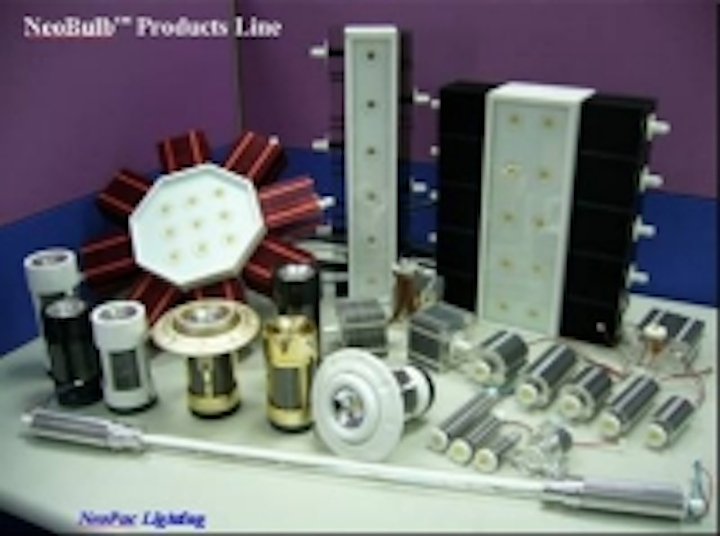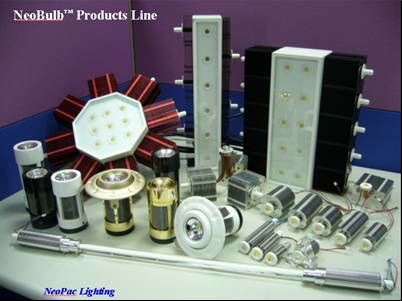 Date Announced: 05 Jan 2006
Seen as one of the leading innovators in the industry, NeoPac Lighting is set to become a major player in the LED general lighting market by presenting its complete NeoBulb™ products line this week.
See the
NeoPac Company Profile
.
With the proprietary Ultra-High-Power LED enabling technology, NeoPac's wide range of lighting products are poised to gain strong positions in the Asia Pacific and worldwide markets by basing its R&D and manufacturing in the Greater China region.
The NeoPac LED products line (see photo) provides an advanced view of the company's offering at this year's upcoming industry exhibitions: Lighting EXPO 2006 in Shanghai (March) and LIGHTFAIR INTERNATIONAL 2006 in Las Vegas (May).
Combining functional design and innovations in solid-state lighting technology and pushing to new boundaries of brightness output and optimal thermal management, NeoPac has been introducing breakthrough LED products at a steady pace since early 2005.
Meeting customer needs in a variety of applications for general illumination, the NeoPac lighting products line includes NeoBulb™ Light Engine, NeoBulb™ Combo as well as NeoBulb™ LED Systems. All of products are developed basing on NeoBulb™ Universal Platform.
NeoPac CEO and president Jeffrey Chen said, "The NeoBulb™ lighting products also come in combinations of RBG colors, thus providing new illuminating set-up possibilities for homes, at work, and at play. They can be utilized for general indoor and office illumination and decorative lighting.
Depending on customer requirement, some of NeoBulb™ products are available with the options of PWM or DMX interface, and selection of 24 VDC, or AC universal for electricity driver unit,
Chen stated that, "Our proprietary system-in-package technology enables LEDs to operate at ultra-high-power range and control the junction temperature (Tj) at very low level to ensure the LEDs life span. We have filed 20 international patents on our NeoBulb™ Universal Platform, so we are well covered for IP rights protection."
Contact
Chin Tsai Assistant to President NeoPac Lighting, Inc. Tel: +886-3-558-3620 ext. 208 Fax: +886-3-558-6909
E-mail:chin@neopac-lighting.com
Web Site:http://www.neopac-lighting.com