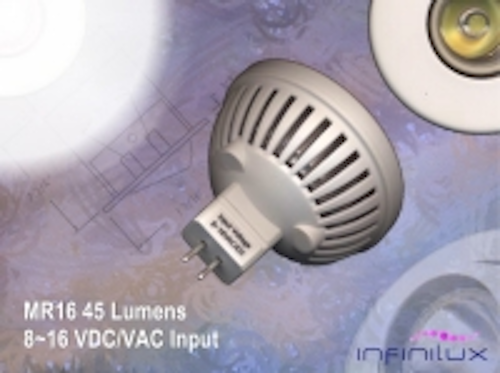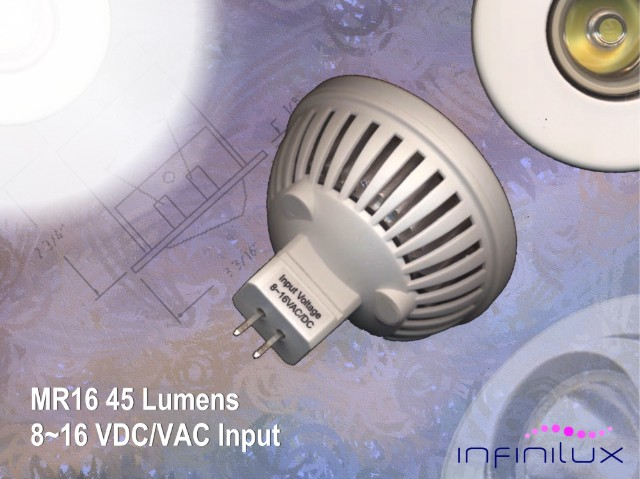 Date Announced: 09 Jan 2006
Two new solid-state lamps (SSL) provide extended service life, up to 90% energy savings and brilliant white (CCT 6500K) output from 45 lumens to 80 lumens.
Carson, CA, January 9, 2006 - Infinilux, announces the introduction of a pair of new solid state lamps with standard bi-pin, MR16 bases and integrated constant current drivers that can accept variable inputs from 8 volts to 16 volts in either alternating current (AC) or direct current (DC). This feature allows for longer runs of task, accent and garden lighting from the same transformers than would be possible with traditional Halogen light sources. Both lamps are built around the industry leading Cree™ Xlamp™ technology and have service lives in excess of 25,000 hours, which will provide a five-year maintenance-free installation in a typical 12 hours on, 12 hours off application.
While each lamp unit is housed in an industry standard white Nylon® 66 housing made from UL rated 94V-0 materials, under the skin are highly advanced thermal management and optical systems. The Infinilux Thermal Management System (ITMS™) is comprised of both an engineered heatsink and an advanced convection scheme that keeps the operating temperature of the IL-MR16 series at near optimal levels. This thermal management combined with the added benefit of lower power consumption makes the IL-MR16 ideally suited to installations where multiple units are required and provides an additional cost savings and rapid return on investment (ROI) by lowering ambient temperatures and consuming up to 90% less energy than traditional light sources.
In addition to the ITMS, Infinilux incorporates highly accurate optics that maintains a culminated output of 10 degrees, the modular approach to line assembly allows for the substitution of custom optics for customer specific applications and installations. With the standard optics, the IL-MR16 creates a soft-focused spot with ideal integrity that does not leave any optical artifacts such as halos, color separation or edge breakup/ghosting.
The entire IL-MR16 series is ideally suited for applications where shock and vibration are a concern since they do not rely upon delicate filaments to generate luminous output but on rugged solid-state LED diodes. Due to the input voltage range (8~16), these lamps are also suited to automotive, marine and recreational vehicle applications where cabin, accent and convenience lighting is employed. Additional applications include solar-powered, retail display lighting, safety and security, under cabinet and architectural installations.
The IL-MR16 is available in two output power configurations, 45 lumens and 80 lumens in 6 industry standard colors besides 6500K white: amber (585nm), blue (470nm), cyan (505nm), green (535nm), orange (620nm) and red (635nm). Units are individually packaged with large volume pricing from $13.00 each (IL-MR16-1-8-16, 45 Lumen, White 6500K). Lead times are stock to six weeks. Custom configurations are welcome, please consult the factory for more information or visit www.infinilux.com.
About Infinilux, Inc.
Infinilux deigns and manufactures high performance lighting products that can be used worldwide in high-profile applications within the architectural, public spaces, theater lighting, retail, residential, landscape, signage, entertainment, hospitality, fine arts, and commercial markets.
The Infinilux product line includes a variety of high-output indoor and outdoor Solid State retrofit lamps and light engines to replace inefficient incandescent lamps as well as a wide range of color wash and accent LED-lighting strips. These strips are ideal for under cabinet lighting in both homes and recreational vehicles and are suitable for use as a light engine for standard lighting fixtures and displays.
Contact
Infinilux, Inc. 17902 Star of India Lane Carson, Ca 90746 USA Tel: (310) 561-8546 email: info@infinilux.com web: www.infinilux.com.
E-mail:anthony@infinilux.com
Web Site:http://www.infinilux.com