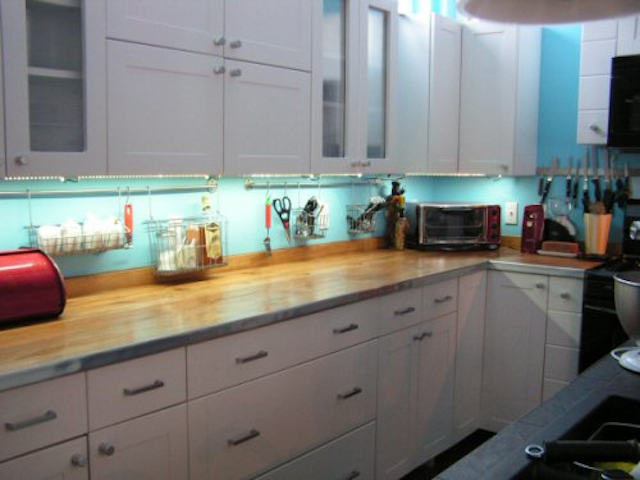 Date Announced: 05 Jan 2006
Infinilux has installed strip lighting at the Palsey Estate in Colorado - see photo and visit the Infinilux
website
for more details.
----
Carson, CA. - Infinilux announces the introduction of their ISL series of LED strip lighting products. These low-voltage, self-adhesive and self-contained luminaries feature up to 70 lumens per linear foot of cool (6500K) or warm (3500K) white output and are ideally suited for replacing inefficient fluorescent tubes or halogen lamps. The ISL series claims up to 50,000 hours median life expectancy and full compliance with stringent environmental initiatives such as RoHS and WEEE.
Powered by a 100~240VAC input, 12V-4amp output laptop style brick transformer, the ISL series can run up to 18 linear feet per power drop/transformer allowing for most installations to run contiguously without interruption. Power consumption is as much as 90% lower with the Infinilux ISL series over conventional lighting systems saving homeowners and businesses thousands of dollars in energy and maintenance costs over the lifetime of the installation.
Each 21.0" [53.3cm] LED strip is comprised of 42 PLCC-4 LEDs that feature industry leading Cree dice and have a daisy chain connector system at each end that allows for plug-and-play interconnection between strips. The strips can also be trimmed with a standard pair of household scissors along 3.0" increments to allow for DIY custom tailored fitting inside, under or on top of, entertainment units, display cabinets and architectural features.
"While the initial concept was to address the under cabinet lighting needs of modern kitchen design, we have found that there are as many unique applications for this product as there are lighting designers." Anthony Vilgiate, Infinilux Staff Research Consultant stated. " Installations in bars and pubs, lobbies and waiting rooms, houses or worship and galleries have all resulted in unique and appealing lighting schemes," Vilgiate added.
Infinilux offers the ISL product line as individual strips (ISL-W-21 and ISL-WW-21), as a starter kit that features two strips, power source and connecting cables in 3.0 [7.6cm] and 6.0 [15.2cm] lengths (ISL-W-21T and ISL-WW-21T) and in pre-packaged contractor packs of 10 units (ISL-W-21-10 and ISL-WW-21-10). Pricing for individual strips starts at under $40.00 each and kit pricing starts from under $100.00. Complete lighting packages for a typical kitchen with 18 linear feet of under cabinet surface start at under $450.00 complete. Custom colors are available, please contact the factory for details at 310-293-6325 or visit www.infinilux.com for more information.
Contact
Infinilux, Inc. Anthony W. Vilgiate (310) 293-6325
E-mail:anthony@infinilux.com
Web Site:http://www.infinilux.com