enLux Lighting unveils high-luminance LED outdoor area light
Jan 25th, 2006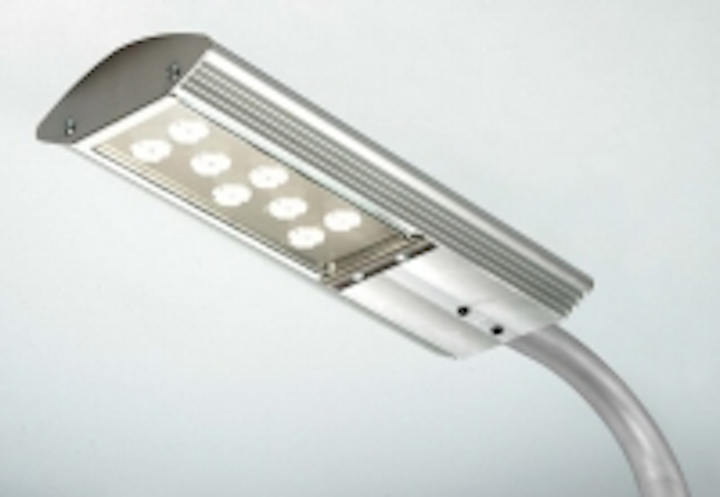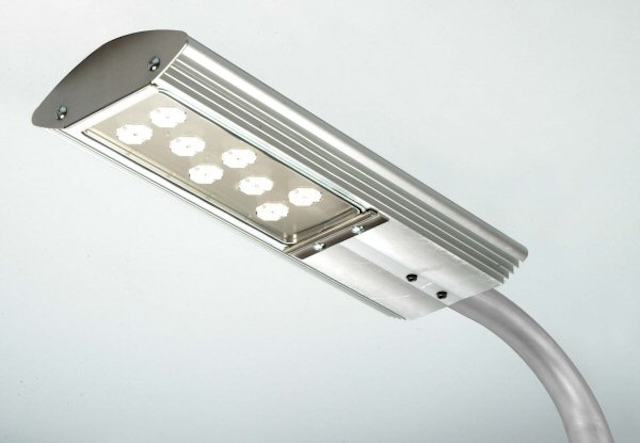 Date Announced: 25 Jan 2006
CHANDLER, Ariz. - enLux Lighting, known for its development of the first LED-based drop-in replacement for incandescent floodlights, has announced its newest lighting innovation, the 6K Series LED ((light emitting diode) OutdoorArea Light.
Designed mainly for municipal and commercial applications, the light's excellent heat dissipation enables it to have an operating range of some 50,000 hours, the company reported. The enLux 6K Series OutdoorArea Light uses patented Chip-On-Board (COB) technology developed by enLux engineers.
The enLux 6K Series LED OutdoorArea Light is available in a variety of lumen outputs -1200 lm, 1800 lm, 2400 lm, 3000 lm, 3600 lm, 4200 lm, and 4800 lm - three white Correlated Color Temperature (CCT) - 2800K, 3300K, 4100K - and 24 custom colors. It is available for use in 100V, 110V, 120V, 220V, and 240V input. Model 614203 is the standard stock item with 2400 lumen, 8 light engines, 120V input, Clear Anodize, 4100K CCT.
The enLux Model 614203 OutdoorArea Light provides an efficient light output of 700 lux (1m) using just 100 watts of power consumption. The light measures 23.6-inches long x 7.3-inches wide x 2.75-inches high, and can be installed on virtually any typical light pole with a round mount. It weighs 14.5 pounds. The Model 614203 OutdoorArea Light, a 2400 lumen light, has a list price of $899.
"Because of its compact size, strong output and long life, the OutdoorArea Light is an excellent choice for walkways, indoor and outdoor parking lots, and other areas requiring evenly distributed, eye-appealing light while providing security," stated Bonnie Quick, director of sales for enLux.
For additional information, or for consideration to become a distributor of enLux Lighting products, call or e-mail Bonnie Quick at 480/733-8065 ext 251, bquick@enluxled.com.
About enLux:
enLux is an award-winning manufacturer and innovator of LED technology based in Chandler, Arizona and has developed such products as the R30 LED lamp and 6K Series OutdoorArea Light. enLux is dedicated to research and development of more efficient lighting that is bright, safe, environmentally-friendly as well as highly energy efficient.
Contact
enLux Lighting, 2915 N. Nevada Street, Chandler, AZ 85225. Phone: 480/733-8065.
E-mail:info@enluxled.com
Web Site:http://www.enluxled.com