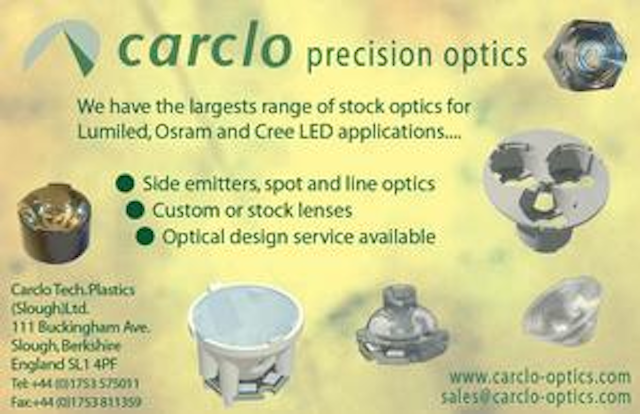 Date Announced: 31 Jan 2006
From Carclo Technical Plastics (Slough):
We now have a wide range of optics and holders for the Luxeon 1, 3, 5 & K2. Also now available optics and holders designed for the Cree XLamp, Osram Dragon, Lamina Ceramics BL4000, Cotco, Seoul, and Edison. These are all available on line along with datasheets and optical output spreadsheets.
We also offer customisation of the current optics and holders or full custom optical design and moulding.
As part of a large Technical moulding group, we are also able to help you in the design and moulding of all your plastic needs please see the e-shop and further details on us via our web site at www.carclo-optics.com
Any further assistance needed please contact us on the details below.
Contact
E-mail: sales@carclo-optics.com Web: www.carclo-optics.com Phone: 00441753 575011 Fax: 00441753 811359
E-mail:sales@carclo-optics.com
Web Site:http://www.carclo-optics.com