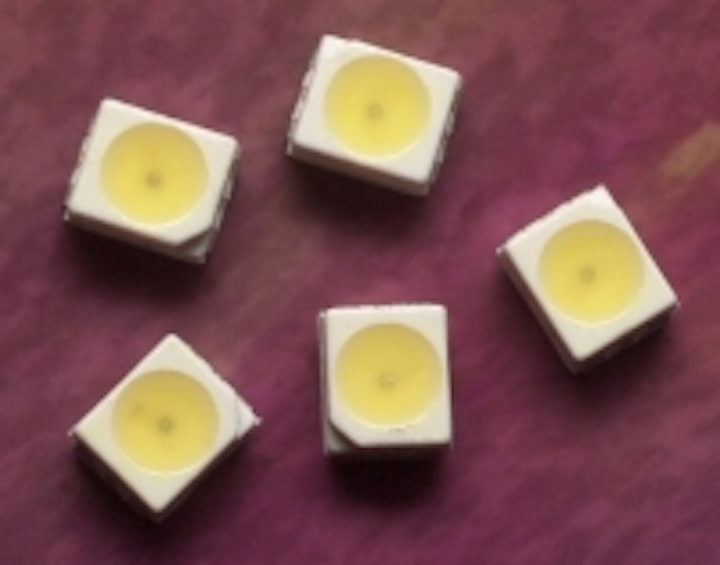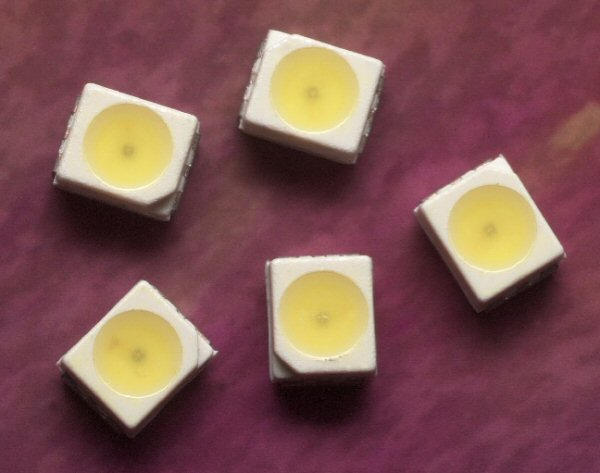 Date Announced: 07 Aug 2006
Avago Technologies Introduces Long-Life, High-Brightness Surface Mount White LED for Automotive, Electronic Sign, Signal Applications
New LED Line Ideal for Interior Automotive Lighting Applications And Messaging Signs
SAN JOSE, Calif. -- Avago Technologies, the world's largest privately held semiconductor company, today announced a new line of miniature LEDs ideally suited to operate under the severe environmental conditions in automotive and electronic sign applications, as well as a variety of home and office applications. Avago's ASMT-SWBM long-life, high-brightness surface mount technology (SMT) white light-emitting diodes (LED) are housed in thin, top-mount, single chip packages so small that two could fit on the head of a pencil eraser.
In the automotive sector, the ASMT-SWBM can be used in interior lighting applications such as backlighting for interior instrument panels, HVAC and switches. It is equally suitable for use in decorative lighting, shelf lighting and messaging signs, as well as for office and industrial equipment, home appliances and indoor mood lighting applications.
In addition to its high-brightness, long life and compact size, Avago's ASMT-SWBM provides manufacturers with two significant advantages. It can be easily soldered using conventional surface mount techniques to minimize production costs, and the package is qualified to a Joint Electron Device Engineering Council (JEDEC) moisture sensitive level (MSL) rating of 2A. For manufacturers, this rating means that the ASMT-SWBM can be kept in the open air (30° C, 60 percent relative humidity) for up to four weeks after being removed from its sealed package without the need to remove absorbed moisture.
"The use of long-life white LEDs by automotive and electronic sign manufacturers has grown significantly over the past three years because of the durability, high-brightness and ease of installation which helps to minimize manufacturing costs and shorten time to market," said Cheng Kai Chong, worldwide marketing manager for Avago Technologies' Optoelectronic Products Division. "Avago's new long-life white LEDs was designed to meet the demanding environmental requirements set by manufacturers of automotive, electronic sign, and home and office applications."
The ASMT-SWBM has been subjected to a series of qualification tests including tests specified by a major U.S. automotive manufacturer. This long-life white LED is a drop-in replacement for the industry-standard PLCC4 LED package, and features equivalent color binning options combined with equal or higher brightness ranges.
Features
- High brightness using InGaN dice technologies
- Industry standard PLCC-4 package
- Tight white color binning –8 binned
- Stable and consistent performance with minimum degradation
- Industry-best MSL 2A floor life
- Compatible with both infrared-reflow and through-the-wave soldering processes to help minimize production costs
- Super wide viewing angle (120 degrees)
- Operating temperature: –40°C to +100°C
U.S. Pricing and Availability
Avago's ASMT-SWBM-NU803 long-life white LED is priced at $0.38 each in 620,000 piece quantities, and is supplied in 8 mm carrier tape on 7-inch reels. Samples and production quantities with a four-week lead time are available now through Avago's direct sales channel and worldwide distribution partners. The LED can be customized to meet a variety of requirements, including special brightness and color binning options.
Avago LED and Display Solutions
Avago Technologies is one of the largest producers of visible LEDs in the world and ships billions of products annually. Known for its LEDs' performance, efficiency and reliability, Avago offers an extensive portfolio of products at globally competitive prices. These LEDs and displays are offered in an array of color, package and viewing options that address a wide range of applications, including automotive, industrial, electronic signs and signals, consumer electronics, and mobile phones. Key products include power LEDs, surface-mount LEDs, LED flash, through-hole lamps, seven segment displays, dot matrix displays, alphanumeric displays, light bar and bar graph arrays, color sensors and illumination and color management IC solutions.
Contact
Avago Technologies at +1 800 235 0312
E-mail:support@avagotech.com
Web Site:http://www.avagotech.com/led