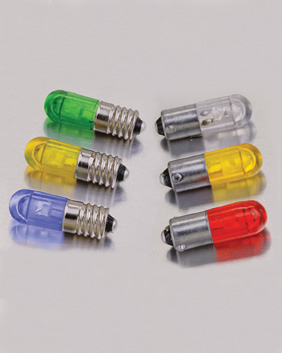 Date Announced: 30 Aug 2006
Farmingdale, N.J. -- Dialight Corporation now offers its 586 VIP Series of variable-input, single-chip based LEDs, featuring T 3¼ miniature bayonet or screw bases. The new lights mount directly into industry-standard sockets for easy replacement of many popular miniature incandescent lamps.
The 586-240X-220 Series with miniature bayonet base (BA9S) is designed to replace incandescent lamp numbers 44, 47, 313, 755, 1815, 1819, 1847, 1850, 1866, 1889, 1891, 1892, 1893 and 1895. The 586-270X-220 Series with miniature screw base is designed to replace incandescent lamp numbers 40,46,1481, 1487 and 1821.
Delivering up to 100,000 hours of service life and using 90% less energy than incandescent lamps, the 586 VIP Series utilize unique VIP technology to provide 6-36 VDC variable operation with constant light output.
The RoHS-compliant lamps incorporate the latest AlInGaP and InGaN technologies for high brightness and low current draw, typically just 10 mA. They are available in red, green, yellow, blue and white. Typical intensity ranges from 200 mcd for blue lamps to 1,500 mcd for green.
Operating temperature is -30 deg.C to +85 deg.C; storage temperature is -40 deg.C to +100 deg.C. Pricing begins at $3.00 per unit in quantities of 1,000; delivery of production quantities is six weeks ARO.
About Dialight
Dialight plc (FTSE: DIA.L) is one of the world's largest suppliers of applied LED technology. It operates in two principal segments: components using low-brightness LEDs for status indication in electronic equipment and signals/illumination utilizing the latest high-brightness LED technology for traffic and rail signals, obstruction lighting, hazardous location lighting and general illumination applications.
Contact
Rich Present, Dialight Corporation Farmingdale, NJ Phone: 732-919-3119 Fax: 732-751-5778
E-mail:rpresent@dialight.com
Web Site:http://www.dialight.com