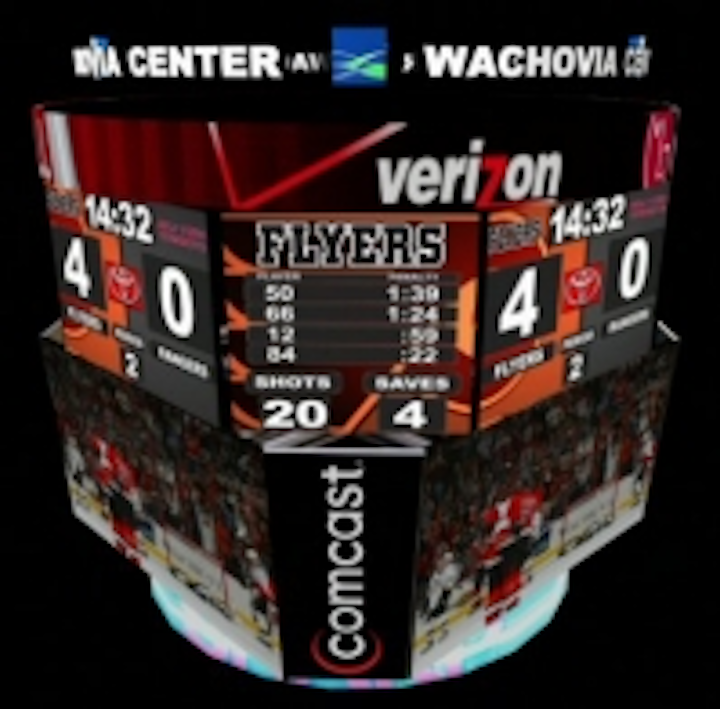 Date Announced: 09 Aug 2006
WACHOVIA CENTER TO ADD SPECTACULAR NEW HIGH-TECH CENTER-HUNG SCOREBOARD TO FURTHER ENHANCE FAN EXPERIENCE
ANC SPORTS CREATES DYNAMIC SIGNAGE SYSTEM FOR ALL WACHOVIA CENTER EVENTS, FEATURING CENTER-HUNG WITH OVER 3,200-SQ. FT. OF ACTIVE LED
Comcast-Spectacor, the Philadelphia-based sports and entertainment firm, selected ANC Sports Enterprises to add a spectacular, new high-tech, center-hung scoreboard to take fans at Wachovia Center into a one-of-a-kind experience. The new state-of-the-art center-hung scoreboard and light emitting diode (LED) signage system will create incredible visual displays for all sporting events and attractions at the 10-year-old, 21,000-seat multi-purpose sports and entertainment facility.
"Our fans are absolutely going to love watching replays and live game action on our beautiful new scoreboard," said Comcast-Spectacor President Peter Luukko. "We felt it was time after 10 years of playing at Wachovia Center, to take advantage of our anniversary year to work with ANC and create a spectacular new game experience for our fans."
The renovation of the visual displays at the Wachovia Center commenced in July and will be completed for events beginning this fall. The new signage system includes a new center-hung scoreboard, an additional level of LED fascia and two outdoor LED screens that will deliver vibrant in-game visuals, such as team animations, real-time statistics, advertisements, live action and replays.
"We really enjoy working with ANC Sports Enterprises," added Luukko. "They are the industry leaders in providing the latest technology in arena entertainment. We believe the company's latest technology and services will assist us reach our goal of being the most visually impressive and exciting arena in professional sports."
ANC is spearheading the design, construction, installation and event operation of the new signage system, highlighted by the center-hung structure which features 12 LED video displays in between two circular LED ribbons. The center-hung will feature over 3200 square feet of active LED signage. Through a multi-year agreement, ANC will create captivating sponsor and team content for the entire signage system while controlling event visuals through its VisionSOFT operating system.
The center-hung structure will energize the arena by displaying crystal clear video through 1.07 billion colors on four Mitsubishi 11' x 21' 10mm displays, four SMARTVISION® 8' x 16' 16.5mm virtual scoring/advertising matrix and four smaller SMARTVISION® 8' x 7' 16.5mm displays. The virtually flat LED screens will provide unobstructed views from all 21,000 seats in the arena. The center-hung will appear in full motion when all the video screens are animated in conjunction with two SMARTVISION® 20mm LED "rings" that will highlight the top and bottom of the structure.
In addition to the new center-hung scoreboard, ANC is installing an additional 1,000 linear feet of SMARTVISION® 20mm LED ribbon around the second level facade to compliment the company's existing fascia system at the arena. The two levels of fascia will bring alive the arena with advertisements and crowd prompts such as "get loud" and "defense." Two new outdoor SMARTVISION® 25mm displays will also welcome fans on Pattison Avenue.
"This partnership demonstrates ANC's capabilities as a complete signage solution partner of the Wachovia Center, where we are excited to enhance sponsorship opportunities and the fan experience through our courtside rotational, concourse displays and LED signage," said Jerry Cifarelli, president and chief executive officer of ANC Sports Enterprises. "The new center-hung scoreboard and additional level of fascia in the arena bowl will help create an energetic and emotional atmosphere that matches the well-known Philadelphia fans' intensity."
Driven by ANC's software, the LED signage system can exhibit separate game prompts, sponsorships and statistics or dissolve into a single animation such as a Philadelphia 76ers logo appearing throughout all the displays. Additionally, ANC's VisionSOFT will interface with all the relevant sports information providers to display real-time statistics separate from or in conjunction with advertisements, creating additional sponsorship opportunities for the Wachovia Center.
ANC Sports Enterprises, LLC, (ancsports.com) a full service marketing company, specializes in providing complete signage solutions that generate maximum sponsorship and advertising revenue while enhancing the overall fan experience. ANC Sports and its divisions: ANC Technologies, ANC Design, and ANC Marketing, offer Light Emitting Diode (LED), rotational and fixed visual displays; advanced media control systems; signage operation and maintenance; marketing consultation; graphic design; and printing production. ANC Sports provides signage solutions for 150 plus venues/stadiums in North America.
Comcast-Spectacor (Comcast-Spectacor.com), the world's largest sports and entertainment firm owns the Philadelphia Flyers of the National Hockey League, the Philadelphia 76ers of the National Basketball Association, the Philadelphia Phantoms of the American Hockey League, Flyers Skate Zone, a series of community ice skating rinks, Comcast SportsNet Philadelphia, a regional sports programming network, Ovations Food Services, a food and beverage services provider, New Era Tickets, a full-service ticketing and marketing product for public assembly facilities, and Front Row Marketing Services, a commercial rights sales company. Comcast-Spectacor also owns three minor league baseball teams - the Bowie Baysox, the Delmarva Shorebirds and the Frederick Keys - all affiliates of the Baltimore Orioles.
Contact
MICHAEL HOPKINS Manager, Public Relations TEL .914.696.2100 X139
E-mail:mhopkins@ancsports.com
Web Site:http://www.ancsports.com