Microchip Technology introduces charge pump DC/DC converters
Mar 15th, 2006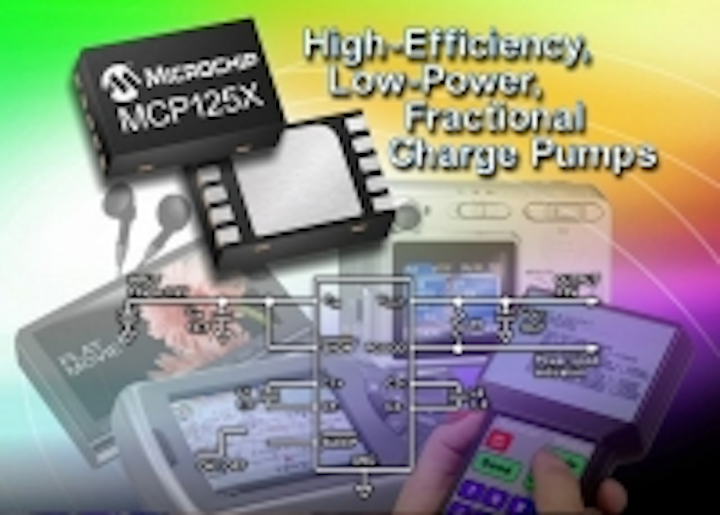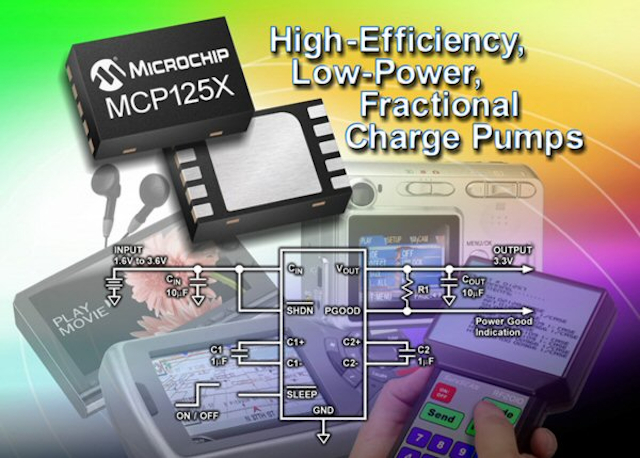 Date Announced: 15 Mar 2006
Microchip Technology Introduces High-Efficiency, Low-Power and Low-Noise Charge Pump DC/DC Converters; Positively Regulated Devices are Among the Most Highly Efficient Charge Pumps in the Industry
CHANDLER, Ariz. - Microchip Technology Inc. (NASDAQ: MCHP), a leading provider of microcontroller and analog semiconductors, today announced a new family of positively regulated charge pump DC/DC converters that are among the most highly efficient charge pumps in the industry. The first fractional charge pumps in Microchip's portfolio, the MCP1256, MCP1257, MCP1258 and MCP1259 devices automatically switch between 1.5x and 2x boost operation for ultimate efficiency. They consume very little power and help designers build more energy-efficient, longer-lasting dual-cell alkaline, Ni-Cd, Ni-MH, single-cell Mn02 and similar coin-cell battery systems.
These new devices provide a low-cost alternative in the high efficiency, low-power and low- noise charge pump category. At light output loads, the MCP1256 and MCP1257 can be placed in "Sleep" mode, where quiescent current is lowered but regulated output voltage stays the same.
Additionally, the MCP1258 and MCP1259 devices provide a bypass feature that connects the input voltage to the output, which biases the system's real-time clock and microprocessor/microcontroller with virtually no power drain from the charge pump itself. All of the MCP125X devices have a low-noise output ripple of less than 20mVpp at load currents up to 100mA, resulting in less system interference and better overall performance.
"Designers of battery-powered consumer electronics are challenged to create highly efficient products with low power dissipation and long battery life," said Qi Deng, senior product marketing engineer with Microchip's Analog and Interface Products Division.
"The MCP1256 - MCP1259 charge pumps address these challenges, plus they provide other features important to our customers, such as soft start, short-circuit protection and thermal protection. Their extended temperature operation (-40 to +125 degrees Celsius) and small, thermally capable DFN packaging make them extremely versatile for the wide variety of environments with which our customers work."
The MCP125X charge pump DC/DC converters are ideal for battery-powered consumer electronics devices that require low power and utilize white LED backlights for liquid-crystal displays (LCDs). Example devices include digital cameras, MP3 players, personal media players (PMPs) and digital multimedia broadcasting (DMB) players. The devices are also appropriate for noise-sensitive industrial applications that involve white LED backlights for LCDs, such as thermostat controllers, machine control panels, handheld meters and scanners, and communications devices such as handheld global-positioning-system (GPS) and two-way radio devices.
Development Tools
To help engineers evaluate and demonstrate the MCP125X charge pump DC/DC converters, Microchip offers the MCP1256/7/8/9 Charge Pump DC/DC Converter Evaluation Board (Part # MCP1256/7/8/9EV) for $35. The board is available today at www.microchipdirect.com.
Pricing, Packages, and Availability
Pricing for the MCP1256, MCP1257, MCP1258 and MCP1259 charge pump converters is $1.49 each in 10,000-unit quantities for all devices and package options. The devices are available in 10-pin MSOP or thermally capable DFN (3 mm x 3 mm) packages. Sampling is available today at http://sample.microchip.com/, and production orders are received today at www.microchipdirect.com.
For additional information, contact any Microchip sales representative or authorized worldwide distributor, or visit Microchip's Web site at www.microchip.com/MCP125X.
Microchip Customer Support
Microchip is committed to supporting its customers by helping design engineers develop products faster and more efficiently. Customers can access four main service areas at www.microchip.com. The Support area provides a fast way to get questions answered; the Sample area offers free evaluation samples of any Microchip device; microchipDIRECT provides 24-hour pricing, ordering, inventory and credit for convenient purchasing of all Microchip devices and development tools; finally, the Training area educates customers through webinars, sign-ups for local seminar and workshop courses, and information about the annual MASTERs events held throughout the world.
About Microchip Technology
Microchip Technology Inc. (NASDAQ: MCHP) is a leading provider of microcontroller and analog semiconductors, providing low-risk product development, lower total system cost and faster time to market for thousands of diverse customer applications worldwide. Headquartered in Chandler, Ariz., Microchip offers outstanding technical support along with dependable delivery and quality. For more information, visit the Microchip website at www.microchip.com.
Note: The Microchip name and logo are registered trademarks of Microchip Technology Inc. in the U.S.A. and other countries. All other trademarks mentioned herein are the property of their respective companies.
Contact
Microchip Technology Inc.
E-mail:info@microchip.com
Web Site:www.microchip.com/MCP125X