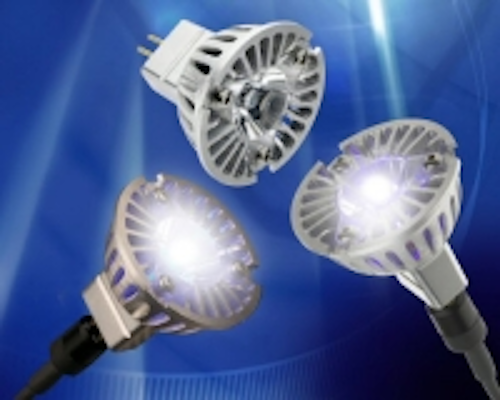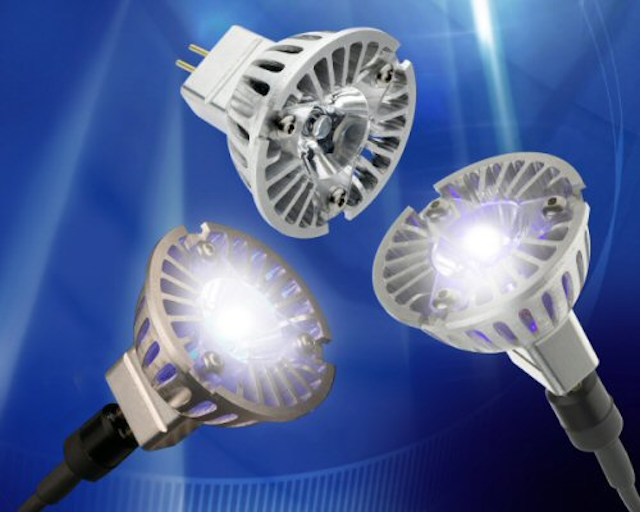 Date Announced: 15 Mar 2006
OPTO TECHNOLOGY ANNOUNCES NEW ENDURA BRIGHT™ LED-BASED MR-16 LAMP
WHEELING, IL - Opto Technology, Inc. has introduced a high performance LED-based MR-16 lamp utilizing the highest output LEDs available on the market. Opto's Endura Bright Series LED lamps are pin-for-pin compatible to current MR-16 tungsten halogens, making them perfect replacements for existing bulbs.
Their high reliability, low heat, superior energy efficiency and long life also offer designers new lighting alternatives in applications where halogens were not feasible or practical such as Trade Shows, Museums, Display Cases, Transportation and Industrial Lighting.
The Endura Bright MR-16 features a high output LED that offers up to 120 lumens of light and providing over 2200 candela of light output with a beam spread of 10 degrees. It is available in a variety of colors, including white, warm white, red, amber, green, cyan, blue and royal blue.
The Endura Bright MR-16 also includes an optical lens system to direct the light and an optimized thermal heat sink designed to handle indoor or outdoor temperatures (-20˚C to 50˚C). Its efficient drive circuit maintains consistent brightness and minimize heat.
The unit price for 10 piece quantities of the Endura Light LED MR-16 (in any color) is $35.09.
For complete information on the new Endura Bright line of MR-16 LEDs, see our Web site at www.optotech.com or contact us at Opto Technology, Inc., 160 E. Marquardt Drive, Wheeling, IL 60090. Phone: 847-537-4277 / Fax: 847-537-4785.
About Opto Technology, Inc.
Opto Technology, Inc. is an LED-based solutions provider specializing in the design and integration of high brightness LED sources with optics, thermal management and supporting electronics for the Lighting, Transportation, and Medical industries. Founded in 1973 and headquartered outside of Chicago, Illinois, Opto Technology is an Engineering Lighting design firm which manufactures both standard and highly customized products.
Note: Luxeon is a trademark of LumiLeds Lighting
Contact
Jim Lahey Opto Technology, Inc. 847/537-4277 x253
E-mail:info@optotech.com
Web Site:http://www.optotech.com