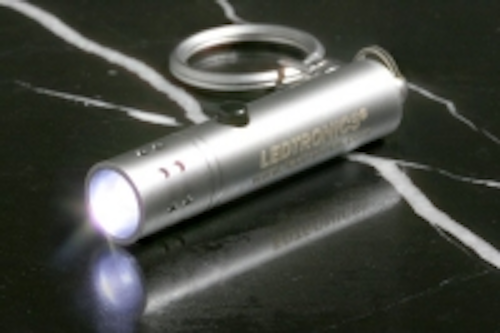 Date Announced: 16 Mar 2006
TORRANCE, CA — LEDtronics®, the proven performer in LED technology, introduces a new design of its popular KeyLED, a take-along miniature LED flashlight.
While continuing the durability of its predecessors, the new KeyLED is smaller, lighter and more powerful. KeyLED's 5mm white LED emits 10-foot candles (6Kmcd) of bright light that's powerful enough to light your way.
KeyLED operates on four, replaceable, watch-cell type alkaline batteries (LR1120 series or equivalents). Since LEDs are 80-90% more energy efficient than incandescent lamps, KeyLED flashlights operates 20 – 30 times longer than the comparable incandescent flashlight to provide hours of continuous illumination.
The exterior of KeyLED is made of anodized aluminum to resist corrosion, impact and scratching. With a brushed aluminum finish, modest styling and sleek form, KeyLED makes a discrete addition to a woman's handbag, a teenager's backpack or man's key ring. Measuring 1.92"L x 0.39"W (L 48.90 mm x W 9.80mm) and only 0.06oz (1.7grams), KeyLED fits comfortably in your hand or in your pocket. To prevent against accidental activation, KeyLED features a push-and-hold button to operate the LED light.
KeyLED is an ideal for illuminating charts, menus, instruments, watches, military and police operations, emergency lighting, cabin lighting while driving at night, keyhole illumination.
Price for KeyLED is $3.95, sold in quantities of 5 units, and carries a 3-year warranty. Availability is stock to 4–6 weeks for special requirements.
Ask for data sheet (log #191). The URL address is: http://www.ledtronics.com/ds/FLT1013-2CW/default.asp
Contact
Jordon Papanier 310-534-1505
E-mail:jpapanier@ledtronics.com
Web Site:http://www.ledtronics.com