Bivar introduces 1-Watt LED hi-brite block design
Mar 30th, 2006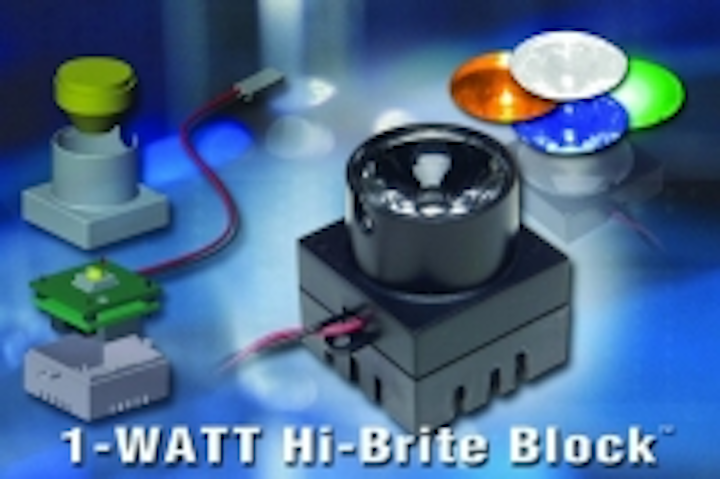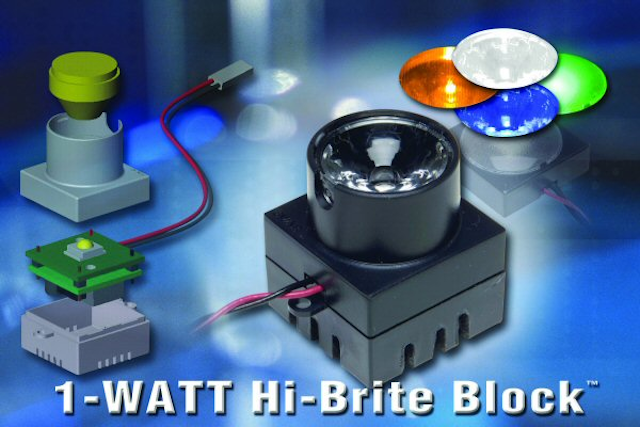 Date Announced: 30 Mar 2006
Bivar Introduces 1-Watt LED Hi-Brite Block Design Featuring Optional Configurations for Power, Lighting and Mounting Styles in Small Footprint
Versatile high intensity, solid state lighting unit creates building block approach for industrial, automotive, architectural and backlighting applications; includes direct drive or integrated DC/DC current regulators
Irvine, CA - Bivar's Design Center Solutions Business Unit has introduced a new 1-Watt LED Block series for use in industrial, automotive, architectural, backlighting and intense single or multiple lighting applications. The series will provide new freedom of design in configuring modular high-intensity lighting sources for applications requiring versatility in lighting style, power-based options, and choice of mounting methods.
The B3 Series Hi-Brite Block™ (patent pending) is designed to enable a choice of three (3) different spot light lenses from Cree® and Fraen®, or optional low profile diffused lenses and flood light lens styles to answer unique lighting requirements. This design also features a choice of the most popular industry-standard color LEDs including high power Cree® XLamp® LEDs.
The LEDs are surface mounted onto a miniature internal PCB and assembled in either a low-profile base for diffused or flood lighting, or a modular base with power options including direct drive or integrated DC/DC current regulator (optional AC/DC wall mount adapters available). Optional wire length and connector styles are available.
This design enables high intensity illumination in a self-contained and powered unit. A choice of mountings include interlocking, mounting tab or quick-mount adhesive backing for installation simplicity, and all are ideal for creating a grid or in-line arrays to suit size and display needs. Each Hi-Brite Block unit is provided in a compact, 1" x 1" footprint, enabling ease of implementation while reducing the time to market constraints associated with non-integrated offerings.
The unit's modular design also enables the device to exhibit excellent thermal management characteristics and is manufactured in compliance with RoHS specifications to meet the growing global emphasis on environmental responsibility. The B3 Series exhibits a viewing angle of 100º in the high power LED group, using InGaN and AllinGaAIP materials with wavelengths of 465 to 635 nm (up to 8000K in white). A choice of lens types for a wide range of projected viewing diameters provides versatility for use in a myriad of applications. Maximum If rating is 400mA. Lens appearance when off is water clear.
Thomas Silber, Bivar President and CEO, stated, "The B3 Series demonstrates a new versatility within our Design Center Solutions Business Unit that will help customers more easily and cost-effectively incorporate the latest LED technology into new product designs. He further stated, "Moving and shaping light in today's applications demands increased technical integration and support. Our goal is to continue introducing key point-to-point light transfer products with the same level of global support and product quality that has given us credible relationships with OEMs worldwide."
The Hi-Brite Block B3 Series is priced from $ 18.00 each in production quantities. Standard units will be immediately available from stock. Custom housing configurations, lenses, or multi-light assemblies are available (consult factory). For more information, contact Bivar, Inc. at 1-800-772-2377, or visit www.bivar.com.
About Bivar, Inc.
Bivar has established an industry-leading position as an innovator in Optoelectronics and Assembly Hardware. Founded in 1965, Bivar's core strengths of quality, service excellence, and employee dedication make it a trusted global resource, responding to a new era of technological advancement that necessitates precision component assembly and cost-effective manufacturing and design services. Bivar's newest Design Center Solutions Business Unit formalizes many existing capabilities into a platform that further streamlines Global OEM design cycles. The Business Unit embodies "Freedom of Design" in its truest meaning and is ideally suited to complement OEM new product design activities at their earliest stage of design and re-design. The company is strategically located in the Spectrum Complex in Irvine, California approximately 50 miles south of Los Angeles. It also maintains logistical operations in Europe and Asia, as well as Manufacturing in California, China, and Taiwan. Bivar is widely supported by a highly qualified Network of Authorized Representatives and Distributors, including U.S. and International offices that comprehensively support a growing global market.
Contact
Bivar, Inc 4 Thomas, Irvine, CA 92618-2593 Tel: (949) 951-8808 Fax: (949) 951-3974
E-mail:Info@Bivar.com
Web Site:http://www.bivar.com