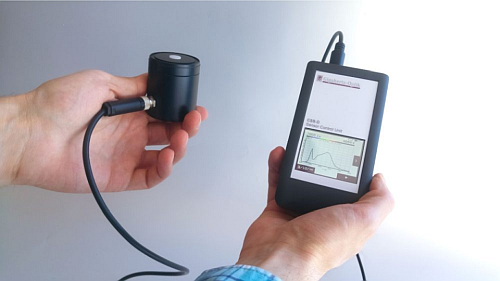 Gigahertz-Optik's CSS-D Display Unit provides convenient handheld operation and control of a remote CSS-45 spectroradiometer head for the precise measurement of spectral irradiance (360-830nm), comprehensive photometric and colorimetric data as well as application specific data such as PAR PPFD.

An internal shutter automates dark level measurements thereby facilitating accurate remote operation over extended periods. The sensor's compact metal housing is IP62 rated (IP65 with optional splash proof glass dome fitted).

This means that the CSS-45 Remote Spectral Detector can be used directly connected to PC under its own supplied software control, connected to the CSS-D Display Unit as a self-contained light-color-PAR-spectral meter or CSS-D plus CSS-45 connected to PC using same software.

A software development kit S-SDK-CSS is available on option.

See the CSS-D Display Unit and CSS-45 Remote Spectral Detector on Gigahertz-Optik's SIL stand 11414 and receive a four page datasheet with full details and technical specfiications.

Contact:
Bob Angelo
Gigahertz-Optik Inc
Bldg B - Ste 205
110 Haverhill Rd
Amesbury MA 01913
978-462-1818