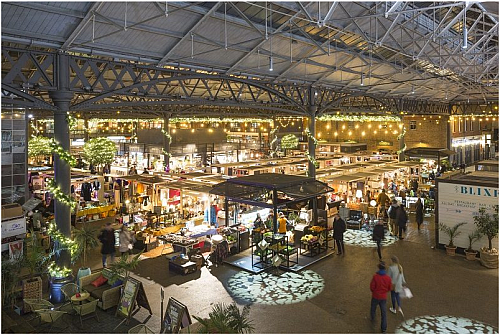 Reggiani has supplied adjustable, round MOOD fittings to market trader stalls at the famous Old Spitalfields Market located in The City of London. The site has hosted a market for 350 years but the old Victorian structure has recently been revamped and updated to provide a central market trader space that can also be transformed into an events area. The refurbishment was part of a project by Foster + Partners who took their inspiration from the original architecture of the old building and successfully transformed this iconic site into a flexible multi-use facility. A carefully considered design achieved the right balance between the often conflicting needs of conservation and refurbishment.

Specified by Lighting Design International, approved by Foster + Partners and working with Benchmark Furniture, Reggiani's adjustable, round MOOD fittings with trim in embossed matt black finish were among the fittings chosen for use in all of the stalls to provide excellent accent lighting for the merchandise on display. The MOOD fitting selected for the Spitalfields project included a COB 3.5W LED with a 28 degree angle, three of which were built into the overhead stall crossbars. With every new stall now incorporating its own lighting, all electrical connections were discreetly integrated into the floor, allowing the stalls to be folded up and stored away and freeing up the space for other functions. To everyone's immense satisfaction, Old Spitalfields Market has become one of London's most popular meeting places, with thriving market stalls, shops and restaurants, and is now ranked as one of London's top ten visitor attractions.

Reggiani's MOOD luminaire creates brilliant accent lighting for different environments and is available in three versions: fixed, adjustable and wall washer; four different sizes and a wide range of wattages. Features include multiple optics and a full range of accessories, LED colour temperatures of 2700K, 3000K and 4000K and a CRI in excess of 90 that provides exceptional colour rendering to vividly illuminate products and displays. Narrow, medium, wide and wall washer optics further ensure the flexibility to adapt to a wide range of lighting requirements.

Contact:
Tel (+44) 0208 236 3000