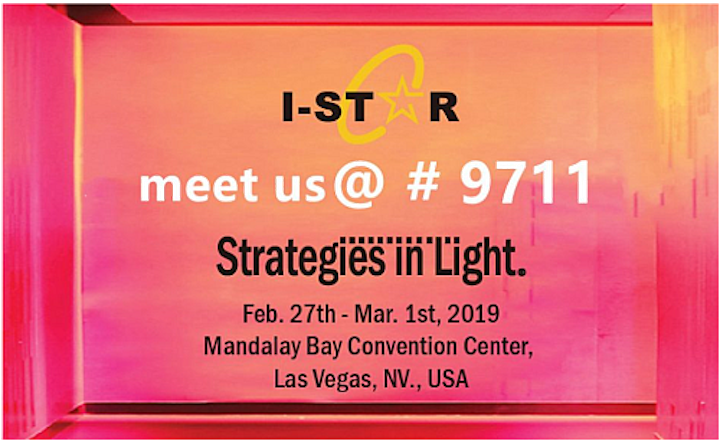 An innovative global supplier of LED lighting fixtures, drivers, and advanced lighting controls, I-Star Lighting offers flexible manufacturing solutions for indoor and outdoor LED lighting applications

February 26, 2019 (LAS VEGAS) – I-Star Lighting, an innovative global supplier of LED lighting fixtures, LED drivers, and advanced solid-state lighting controls, will exhibit at the annual Strategies in Light conference, a leading tradeshow for the international LED lighting industry, held February 27 – March 1, 2019 at the Mandalay Bay Convention Center in Las Vegas.

"We're continuing to expand our sales of both LED drivers and lighting fixtures in the North American market, and the Strategies in Light conference is an excellent opportunity to connect with customers," said Melissa Chen, vice president of I-Star Lighting. "This year we are introducing a number of new LED drivers that enable our customers to develop more innovative and dynamic LED lighting systems."

As part of its exhibit at Strategies in Light, I-Star Lighting will showcase its new series of innovative LED drivers, including:
• A series of low profile linear LED drivers with a height of just 15mm. Available in a range of 8W to 40W, the drives are compatible with 0 – 10V/Triac/ELV dimmers.
• The Cube Series of LED drivers with a standard profile of 25.4mm, also available from 8W to 40W and compatible with with 0 – 10V/Triac/ELV dimmers.
• Tunable white LED drivers for stepless color temperature adjustment and dimming, with models using one or two wall dimmers for control, each available in a range from 30W to 50W.
• A series of switch-selectable LED drivers that enable installers to adjust five color temperature settings, three lumen output levels, and either 0-10V or Triac dimming, effectively delivering 30 different products (SKUs) in one.
• Bluetooth-enabled 0-10V converter modules for transmission and control applications, enabling users to implement wireless lighting control systems using standard 0-10V wall dimmers.
• A high-efficiency IP65-compliant 1500mA LED driver with constant current/0 – 10V dimming capability and 4kV surge protection.

In addition, the I-Star Lighting exhibit will feature its new Ultra linear high bay LED lighting fixtures in 2-ft and 4-ft, designed to meet or exceed standard high-bay illumination requirements with a range of lighting output from 12,150lm to 32,400lm.

I-Star Lighting will exhibit in Booth #9711 at Strategies in Light on February 27 – March 1, 2019 at the Mandalay Bay Convention Center, located in Las Vegas, NV.

About Strategies in Light:
Celebrating its 20th year, Strategies in Light provides a uniquely collaborative, integrated event experience for professionals representing the entire spectrum of the LED lighting business. From technology to application to inspiration, Strategies in Light provides an unprecedented environment for learning, observing and engaging with every segment of the industry under a single roof. For more information about Strategies in Light, please visit: http://www.strategiesinlight.com/index.html

About I-Star Lighting
I-Star Lighting is part of I-Star Technology Co., Ltd., an innovative LED lighting company founded in Shanghai in 2007 and focused on developing reliable, energy-efficient, integrated lighting solutions for customers worldwide, using a flexible manufacturing process that employs world-class quality production facilities in multiple countries.

Contact:
I-Star Lighting
North America
David Cox
Tel: +1 (919) 410-9856
Email: David.cox@istarlighting.com

I-Star Technology Co, Ltd.
China & Europe
Melissa Chen
Tel: +86-21-3451-0764
Email: Melissa_chen@huhong-china.com