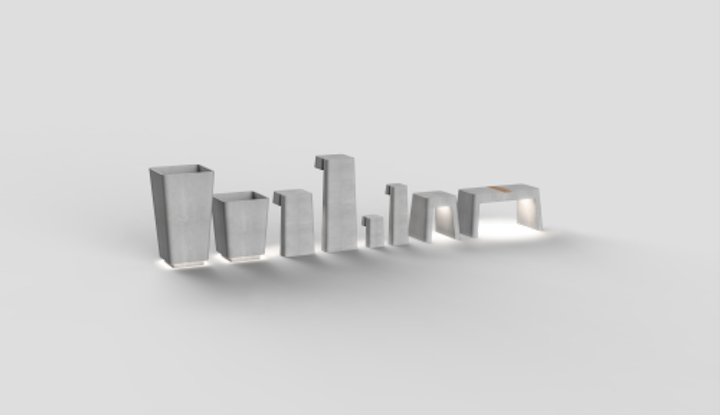 Neri North America will exhibit its latest architectural lighting solutions in booth 2009 at LightFair International (LFI), May 21-13, 2019; Philadelphia, PA.

Lang, the new Neri post top luminaire designed by ÅF Lighting

Lang is the new post top luminaire designed by Danish lighting design firm ÅF Lighting. Lang is a design tool that makes it possible to play with light. The two independent light sources, with their four different geometries, can generate a lumen output between 1,500 and 15,000, while the optional 'blade' can be customized to establish the identity of a place.

The simple shape of Lang provides comfortable and low-glare, yet high quality and performing light for public spaces. This decorative lantern can be mounted at 10'-19', requiring an adapter for 2 1/4" Ø posts, without adapter on 3" Ø and flush on 3 1/2" Ø.

Materials
Lang consists of two cast aluminum sections characterized by an essential organic design. The bottom section is the slender but robust 'V' shaped bracket and the second section is the low spherical top that hosts the engine.

Finishes
The standard color is the eponymous Neri Grey that is obtained from a chromatic combination, which has been developed after a long aesthetic research. Posts and luminaires are painted using a water-based, durable and highly eco-friendly process.

The Blade
The 'blade' is a visual divider positioned between the V shaped brackets, it is a slim sheet of laser cut aluminum that can be customized and work like a filter. This graphical and definition giving device offers the designers yet another field with which to express themselves. The color and pattern combinations are endless: a corporation can have their logo, a site or campus can have an integrated zonal definition system, or a community or urban district can have their own identifying emblem.

Performance
Lang is characterized by two light sources positioned side by side. For each source light distribution and lumen output could be chosen, allowing designers maximum flexibility and customization within a single fixture.

Lang won the German Design Awards 2019 in the category 'Lighting'.

ÅF Lighting
ÅF Lighting is at the forefront of the professional lighting design business. With thirty years of experience, and many award-winning projects, it's currently one of the largest lighting design offices in the world. www.afconsult.com

--
Brenta

Brenta, designed by Italian firm EMO Design, is the first smart urban furniture collection made of a special mixture of High Performance Concrete (HPC), where each piece emits light. The collection is composed by four types of illuminating bollards (XL, L, M and S), two types of wall mounted luminaires
(L and S), two types of illuminated benches (L and S) and two types of illuminated planters (L and M). For illuminating bollards XL and L and for wall mounted luminaire L, a special indirect light optic and reflector have been designed and engineered. The LED chips are hidden by a small reflector positioned
on top of them. The shape of the reflector generates a wide beam of light on another white rectangular reflector that widens the beam even more. Thank to this reflector the photometry obtained allows inter distance between bollards of 6 times the height.

The material the collection is made of is called NeriConcrete, it is a completely new and bespoke HPC (High Performance Concrete) mix. Its high mechanical strength is due to polymeric fibers present within the mass; it is a highly compact material with minimum porosity; it is waterproof thanks to the low
watercement ratio. The XL illuminating bollard can be equipped with integrated Wi-Fi antenna, whilst the L illuminated bench can be equipped with mobile phone wireless charger.

Brenta collection won the German Design Awards 2019 in the category 'Lighting.'

EMO Design
EMO Design is an international award winning industrial design consultancy based in Vittorio Veneto (Italy). Founded in 2008, the firm developed a variety of projects for different sectors based on a market-oriented approach through design research and creative expression as strategic tools. Emo Design believes that the innovations introduced through the correct use of design is a competitive advantage for companies. www.emo-design.it


Neri SpA
Neri is an independent urban lighting and furniture company based in Italy with branches in France, US, Middle East and India. Founded in 1962 by Domenico Neri, the firm is today led by the third generation of the family. The company is know around the world for its urban décor culture and an unrivalled archive of outdoor products, which can be found in cities around the world from Venice to Paris and from New York to Dubai.
Contact:
Enrica Corzani
Business development and marketing director
Neri