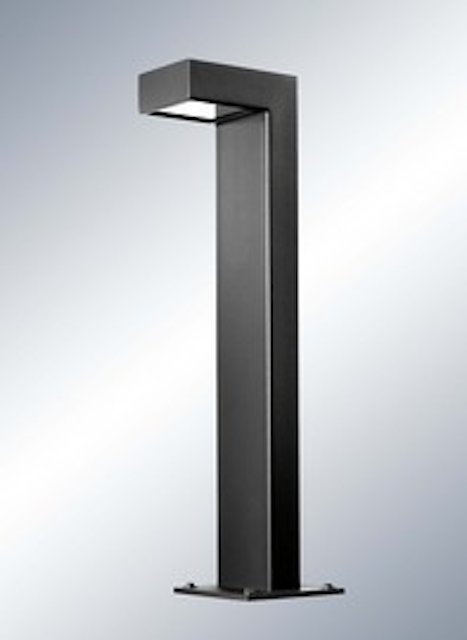 Date Announced: 25 Feb 2009
New Product Introduction LINEA — LED-powered bollard for low-level pathway illumination with zero uplight, suitable for all LEED lighting zones.
Design: LINEA – German architect Karsten Winkels.
Manufacturer: HessAmerica, U.S. subsidiary of Hess AG of Germany.
Product Applications: LINEA is well suited for commercial, institutional, and municipal pathway lighting applications of all kinds. These include corporate, university and hospital campuses; public parks; hospitality venues, resorts, casinos, theme parks and recreational areas such as bicycle paths and jogging trails.
Product Description: LINEA exemplifies contemporary architectural dayforms. Its pure linear form conveys minimalist design with clean lines and flangeless mounting.
LED lamping consists of single-watt diodes fitted with special prismatic lens optics, arranged in an array that produces a wide asymmetric distribution ideal for pathway lighting applications. LINEA may be spaced up to eight mounting heights (24') while meeting the IESNA recommended illumination levels for walkways with excellent uniformity. The directional light distribution emits zero light at or above ninety degrees with very low power consumption, suitable for all LEED lighting zones.
Construction & Finishes: The LINEA luminaire head and shaft are a single piece, fabricated from high-grade aluminum alloy. LEDs are housed in a removable weather-tight enclosure which is secured with a tamper-resistant locking device. Lens is clear polycarbonate. Bollard with internal flange installs onto concealed mounting plate assembly for a crisp aesthetic appearance.
Optional steel housing for high-abuse environments is available on request. Housing is hot-dip galvanized prior to being finished in finely textured paint.
All hardware is stainless steel. Standard Hess colors are matte silver grey metallic, graphite grey, or black. Special colors available
LINEA is CSA certified for wet locations for the USA and Canada.
Contact
HessAmerica P.O. Box 28 Gaffney, South Carolina 29342 Ph: (864) 487-3535 Fax: (864) 487-3175
E-mail:info@hessamerica.com
Web Site:www.hessamerica.com