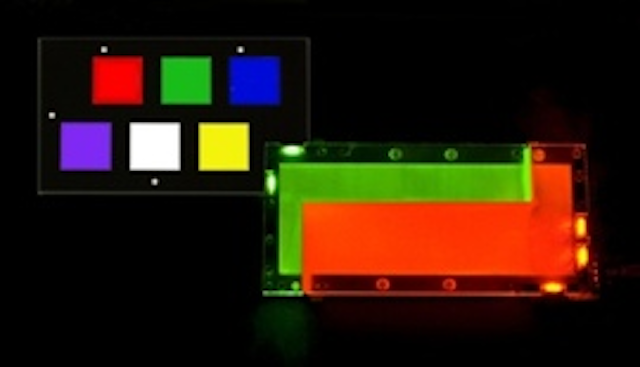 Date Announced: 24 Feb 2009
Brecksville, OH – Global Lighting Technologies (GLT) has introduced new high-brightness LED-based backlight assemblies that enable independent control of the brightness and color of individual zones within the backlight. These backlight modules are designed and constructed utilizing GLT's patented MicroLens™ technology to be
user-addressable so that the end user can design and supply circuitry to control each LED's color and intensity. This feature can be used to achieve color fading, pulsing, or steady state illumination, and can be utilized in a wide array of consumer electronics displays as well as in keypads/keyboards used in mobile phones and laptop and desktop PCs.
In keypad / keyboard applications, independent illumination of zones can be achieved to illuminate numeric keys or other groupings to make them independent in intensity and color from the remainder of the keypad / keyboard. Status indications can be incorporated into LCD backlights that change color and/or intensity to indicate faults, errors, or warnings.
In creating these backlight assemblies, GLT has combined its patented MicroLens light extraction technology and high-efficiency, high-volume manufacturing processes with today's most advanced LED technologies to achieve optimum uniformity and intensity regardless of illumination color while maintaining a low cost structure that is competitive in even the highest volume applications.
Pricing for GLT's new multi-zone, multi-color light guides depends on application, size, and volume. For details, contact Global Lighting Technologies with your application.
Photo: GLT's new multi-color, multi-zone light guides can be used for independent illumination of different zones in keypad and keyboard backlights, as well as for indicators incorporated into consumer product LCD backlights that change color and/or intensity to indicate status, action required, errors, warnings, etc.
Contact
Global Lighting Technologies, Inc. 525 Andrews Circle Brecksville, OH 44141
E-mail:sales@glthome.com
Web Site:www.glthome.com