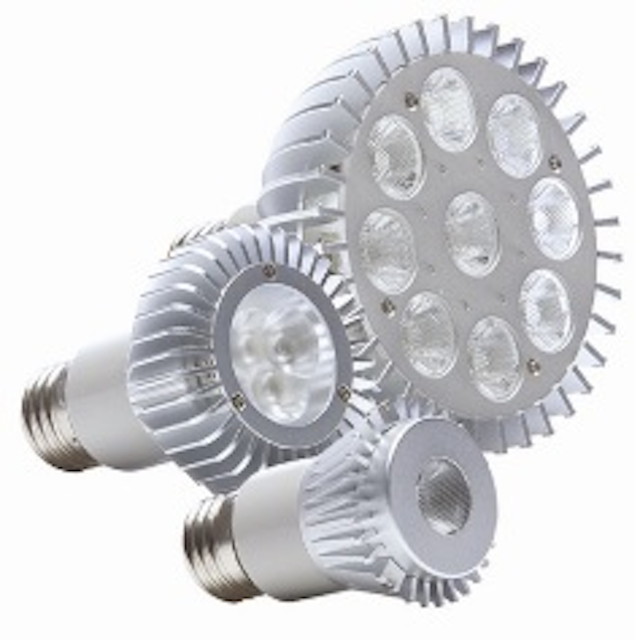 Date Announced: 11 Feb 2009
Norcross, Ga., February 6, 2009—Halco Lighting Technologies® has announced the addition of PAR ProLED® Solid State Lighting to their product line up. ProLED® PAR16, PAR20, PAR30 and PAR30 long neck lamps create a dramatic lighting effect by providing optimum beam control and color flexibility. With comparison to standard halogen lamps, the ProLED® lamps utilize up to 80 percent less energy by producing up to 50 lumens per watt. The lamps have a useful life of 30,000 hours that result in reduced maintenance costs with less hassle and expense with replacements. Lamp disposal concerns are also eliminated since the lamps do not contain mercury.
ProLED® lamps are very efficient, provide consistent lamp-to-lamp color and do not project heat or UV. ProLED products utilize the highest quality components including USA and Japanese chips, European manufactured optics, a proprietary designed driver, and an aluminum extruded heat-sink to ensure overall performance. With the addition of their new line of ProLED® lamps, Halco Lighting Technologies® brings you a modern, energy saving lamp that encompasses the latest technology.
Halco's ProLED® PAR lamps are available in warm white and natural white with beam spreads of 25°, 40°, 60° and 120°. ProLED PAR16 and PAR20 are also available in amber, blue, green, red and color changing options. These 120-volt, energy saving lamps are offered in 5, 8 and 14 watts.
About Halco Lighting Technologies®
Halco Lighting Technologies® is a global manufacturer of high quality lamps and ballasts designed for residential, industrial/commercial and special lighting applications. Established in 1974, the company has U.S. distribution centers in Atlanta, Cleveland, Houston and Phoenix.
Contact
Halco Lighting Technologies (800) 558.2852
E-mail:dforster@halcolighting.com
Web Site:www.halcolighting.com