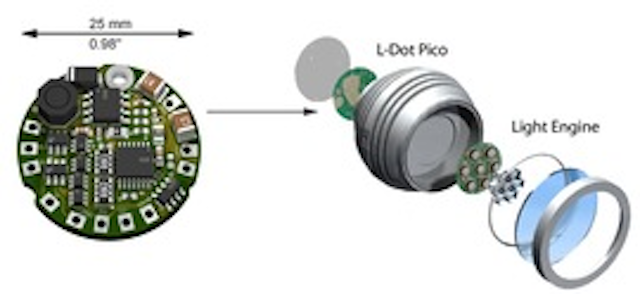 Date Announced: 27 Feb 2009
The L-Dot Pico by eldoLED packs a big punch from a small package - 15 watts of RGBW colour change from a driver/controller the size of a quarter, ideal for integration into the smallest of lighting fixtures! - DMX and temperature protection as standard.
Single LED current source, multiple LED colour groups
eldoLED technology drives up to 4 LED (colour) groups from a single, high-precision LED current source, which not only gives the L-Dot Pico a power efficiency of up to 95% but has also resulted in a break-through form factor.
Small form factor: in-fixture installation
The remarkably small size of the L-Dot Pico makes it ideally suited for in-fixture installation, leading to less cabling, increased design freedom and improved system cost for luminaire manufacturers.
High control resolution
The L-Dot pico supports a 15-bit control resolution per output channel for accurate dimming and fine colour mixing.
Robust thermal management
The L-Dot Pico's high efficiency leads to a lower heat generation, which means a much smaller heat sink suffices to dissipate its heat. The Pico can even share the heat sink of the LED engine, lowering total system costs. Furthermore, it features an interface for the connection of an NTC, enabling various ways of thermal control, including LED throttling (a graceful decrease of light output until acceptable temperature values have been reached).
ShowMaster
ShowMaster, supported on all eldoLED driver/controllers, allows you to create, manage and upload show sequences for use in standalone mode. ShowMaster is part of the freely available TOOLbox software.
Technical data:
• Dimensions: 25mm/0.98" diameter, 4.5mm/0.18" height
• Operating supply voltage range: 12V – 28V DC
• Power output: up to 15Watt
• LED current: 350mA – 700mA
• Supported DMX network resolutions: 8- and 16-bit
• Set point resolution: up to 15-bit
• Contrast ratio: up to 8,000:1
• Onboard thermal sensor interface for connection of NTC
• Uploaded show sequences: 9 standard eldoLED shows, customer-defined shows, or ShowMaster
Company profile
eldoLED develops, produces and markets high-performance, small form factor Drive, Networking and Control solutions for solid-state lighting applications. eldoLED standard products include DMX- and DALI-compatible drivers/controllers and accessories such as dimmers and bridge interface cards. A dedicated team of engineers supports eldoLED's customers by designing customized solutions (form factor, connectors, encapsulation) and design-in solutions.
Contact
For pricing information, please contact the eldoLED sales department at sales@eldoLED.com or +1 408 451 9333 (USA) or +31 40 2054050 (other countries). For information regarding customized solutions, please contact the eldoLED OEM department at OEMdesk@eldoLED.com or +1 408 451 9333 (USA) or +31 40 2054050 (other countries).
E-mail:sales@eldoLED.com
Web Site:www.eldoLED.com