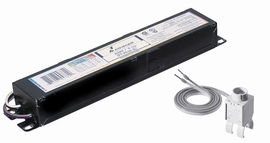 Date Announced: 06 Feb 2009
ROSEMONT, IL – Philips Lighting Electronics North America is proud to announce the introduction of its Philips branded LuxSense Lighting Control, an easy-to-use means of automatically achieving a comfortable level of illumination throughout the workday and driving energy savings by maximizing the incorporation of natural light levels.
Designed to control up to 20 fixtures, the LuxSense daylight sensor provides potential savings of up to 32% without sacrificing visual comfort. The pairing of LuxSense with a Philips Advance Mark 7 0-10V electronic dimming ballast will help optimize performance and sustainability; the sensor's combined use with energy-efficient fluorescent T8 lamps will further maximize performance and efficiency.
Sporting a low-profile design to enhance flexibility, LuxSense possesses the ability to be incorporated directly into a fixture or alternatively clipped to a high-efficiency T5 lamp using a clip included in the package. Users need only adjust the device's rotating diaphragm to set the desired light level should they want a level different than the 45 footcandles preset on the device.
Ideal for use in small open offices, meeting rooms, and private office configurations, LuxSense fully supports sustainable design as measured by LEED (Leadership in Energy and Environmental Design) Green Building Rating System performance standards and represents an easy-to-use-and-install approach to achieving the benefits of controllable lighting.
High-performing and energy-efficient, Philips' LuxSense Lighting Control has truly simplified the art of lighting control, enabling commercial users to enjoy the personal comfort and productivity enhancements associated with controllable lighting while fully promoting sustainable design.
About Philips Lighting Electronics North America
A leader in the ballast industry for over 60 years, Philips Lighting Electronics N.A., based in Rosemont, Illinois, offers a full line of Philips Advance branded ballasts and drivers for fluorescent, HID, and LED light sources to the market's broad range of lighting fixture manufacturers and electrical distributors. For more information on Philips Lighting Electronics' complete product line and range of Smart Solutionsä, visit our website at www.philips.com/advance or call us at (800) 322-2086. Philips Lighting Electronics N.A. is a division of Philips Electronics North America.
About Royal Philips Electronics
Royal Philips Electronics of the Netherlands (NYSE: PHG, AEX: PHI) is a diversified Health and Well-being company, focused on improving people's lives through timely innovations. As a world leader in healthcare, lifestyle and lighting, Philips integrates technologies and design into people-centric solutions, based on fundamental customer insights and the brand promise of "sense and simplicity". Headquartered in the Netherlands, Philips employs approximately 121,000 employees in more than 60 countries worldwide. With sales of $38 billion in 2008, the company is a market leader in cardiac care, acute care and home healthcare, energy efficient lighting solutions and new lighting applications, as well as lifestyle products for personal well-being and pleasure with strong leadership positions in flat TV, male shaving and grooming, portable entertainment and oral healthcare.
Contact
Susan Bloom Philips Lighting Electronics North America
E-mail:susan.bloom@philips.com
Web Site:www.philips.com