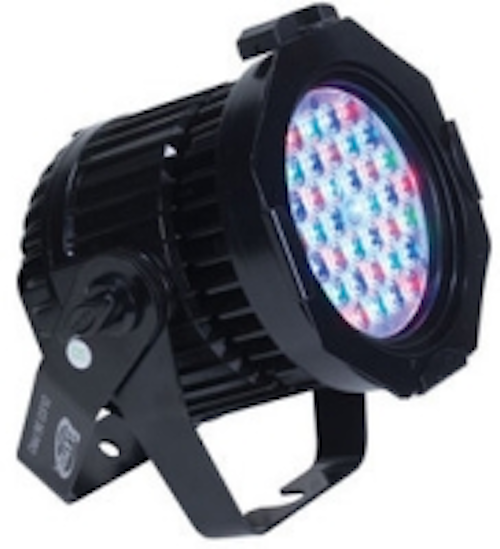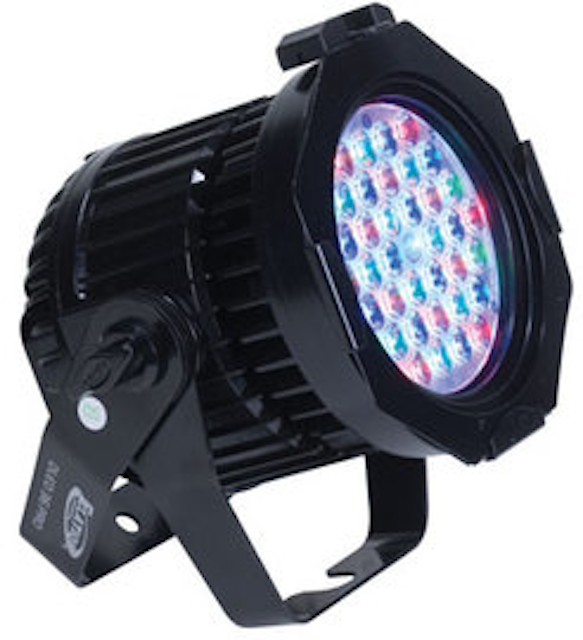 Date Announced: 27 Feb 2009
LOS ANGELES –Although it comes in a diecast case, Elation Professional's new IP-rated Design LED 36 Pro refuses to be "cast" in any one role. Like a chameleon, this compact, rugged and powerful LED color changer can adapt to any application, whether indoors or out, in permanent installations or traveling stage shows.
Wherever it does duty, the DLED 36 Pro will produce dazzling colors with 108 watts of high-output featuring 36 x 3-watt RGB LEDs (12 red, 12 green and 12 blue). Using a DMX controller, operators can custom blend RGB colors, putting an infinite palette at their fingertips. The DLED 36 Pro can also generate changing colors as a standalone unit, since it's equipped with pre-programmed color macros and 8 built-in programs that can be called up with or without a DMX controller.
The unit includes a built-in 100V-240V switching power supply, and Edison power in and out and XLR in and out. "Even though it's an IP 65-rated fixture that uses IP 65-rated cable, the connectors are regular Edison and XLR, so you don't have to worry about using special connectors," said Eric Loader, director of sales for Elation Professional. Multiple units – as many as 10 -- can be power-linked together via the supplied power in/out cables each 3' long featuring 120PPG in/out molded connectors and inked together by the attached 3-pin data cables which are 3' in length in/out allowing you to separate the fixtures 6' apart without any extra cabling to purchase.
Rated at a hardy IP 65, it's virtually rain and wind-proof, making it ideal for adding color to building exteriors, landscape, pavilions, amphitheaters and outdoor concerts. Featuring a brilliant output and smooth linear RGB color mixing, it's an equally great performer in theaters, churches, nightclubs and indoor architectural applications. It's even small enough to fit into 12" box truss, so it can also be used as a truss warmer on stage, in exhibits and at trade shows. And it's flicker-free and silent running, so it's perfect for TV and film production, too.
This versatile little light also features a gel/frame holder, which lets users further customize it to their needs. Operators can add their own color correction / diffusion gels or barn doors (not included). Or they can insert the included frost filter to diffuse the unit's narrow beam, giving a smooth even color mix.
"The DLED 36 Pro is really a tremendous value because it can be used in so many different ways," said Loader. "It's well-suited to all types of indoor and outdoor architectural, entertainment, exhibition and production applications -- anywhere a color changer is needed. This versatility makes the DLED 36 Pro a great piece for rental houses too. And it's very attractively priced."
The DLED 36 Pro comes with a standard 15° beam angle, but in keeping with its versatility, users can also purchase optional 25° and 45° lens kits (sold separately). Other features include: 0-100% dimming with linear and standard dimming options; three DMX modes – 3, 4 and 6-channel; and a versatile dual yoke mounting bracket that can either sit on the floor or be hung from truss in any safe position.
Adding to the DLED 36 Pro's value is the long life of its LEDs, which are rated at 100,000 hours, saving users the time and expense of lamp replacement. Operators will also save on energy costs, since the DLED 36 Pro's LEDs consume very little electricity compared to conventional halogen and discharge fixtures 5 to 10 times the power draw rating. "We have compared it color to color against 1,000Watt Par w/ primary gels and this unit puts out more light!" Another advantage of LEDs is that they generate virtually no heat, keeping performers, buildings and illuminated objects much cooler.
The DLED 36 Pro measures 8.8"L x 8"W x 10.8"H, and weighs 15.2 lbs. It has an MSRP of $1,299.95.
Contact
For more information, call Elation Professional toll-free at 866-245-6726 or visit www.elationlighting.com
E-mail:christine@fucinipro.com
Web Site:www.elationlighting.com