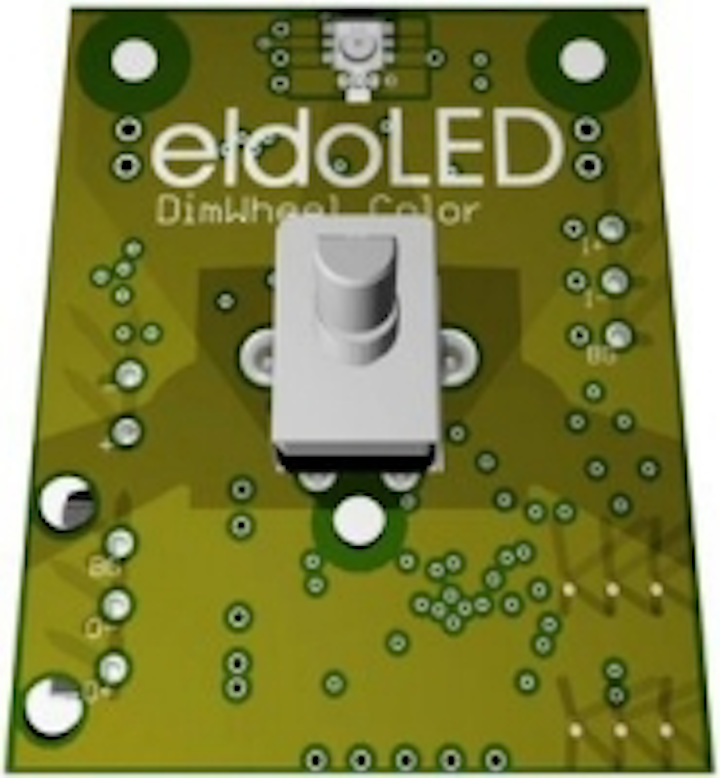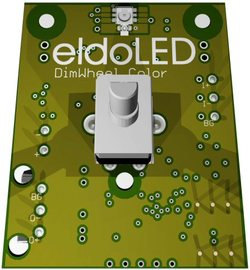 Date Announced: 27 Feb 2009
DimWheel Colour by eldoLED:
one-button dimming and colour control. Connect LED drivers and other DMX-compatible luminaires to the DimWheel Colour for fine colour mixing, dimming and on/off control.
High control resolution
The 15-bit set point resolution of the DimWheel Colour, a DMX-compatible light controller, allows accurate dimming and extremely fine colour mixing.
Intuitive operation: one-button dimming, on/off and colour control
Operating the DimWheel is as intuitive as any standard household dimmer. Pressing the encoder switches on the light, turning the encoder adjusts the brightness. Pressing and holding down the encoder shortly enters the colour selection mode – subsequently turning the encoder selects the hue, and pressing and turning it once more sets the saturation level. Pressing the encoder one final time saves the selected colour.
Easy installation
The DimWheel's small footprint of 1.57" by 1.89" allows integration in any industry-standard mounting space used for traditional dimmers and the screw terminal blocks and threaded encoder guarantee easy connection and easy mounting, making the installation process of the DimWheel a breeze.
Technical data:
• Dimensions: 40mm x 48mm / 1.57" x 1.89"
• Encoder shaft length: 21.2mm / 0.835"
• Operating supply voltage range: 12V – 32V DC
• Easy connection due to screw terminals
• Supported DMX network resolutions: 8- and 16-bit
• Number of controlled network channels: 256 (128 channels full featured and 128 channels on/off)
• Output signal update rate: 22ms
Company profile
eldoLED develops, produces and markets high-performance, small form factor Drive, Networking and Control solutions for solid-state lighting applications. eldoLED standard products include DMX- and DALI-compatible driver/controllers and accessories such as dimmers and bridge interface cards. A dedicated team of engineers supports eldoLED's customers by designing customized solutions (form factor, connectors, encapsulation) and design-in solutions.
Contact
For pricing information, please contact the eldoLED sales department at sales@eldoLED.com or +1 408 451 9333 (USA) or +31 40 2054050 (other countries). For information regarding customized solutions, please contact the eldoLED OEM department at OEMdesk@eldoLED.com or +1 408 451 9333 (USA) or +31 40 2054050 (other countries).
E-mail:sales@eldoLED.com
Web Site:www.eldoLED.com