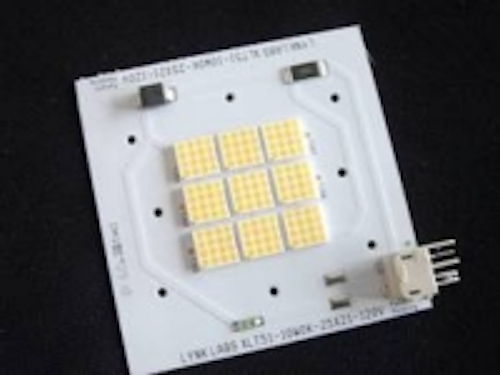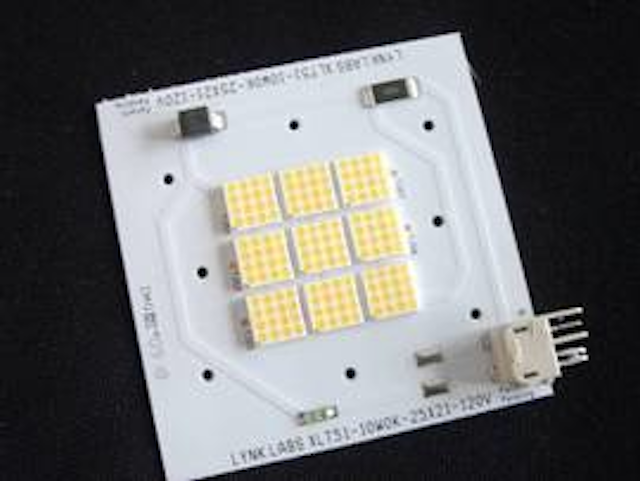 Date Announced: 21 May 2009
-- The SnapBrite SBT51-10W 120V AC LED Light Engine delivers over 450 lumens in a compact, UL-friendly, rapid design solution for OEMs.
Lynk Labs Inc., the leading supplier of AC LED device, light engine and power supply technology has introduced the first of a planned line-up of 120VAC - 240VAC direct mains AC LED light engines and devices.
The NEW SnapBrite(tm)
XLT51-10W
120V AC LED light engine made with the patented Tesla(tm) AC LED device technology from Lynk Labs, "makes LED system design as fast and simple as it gets for lighting OEMs," said Chick Huber, Vice President Business Development for Lynk Labs.
Simplifying application design time reduces cost and promotes accelerated adoption by the lighting industry. High efficacy, particularly at the system level which includes the power source, puts AC LEDs ahead of most other solutions as well.
"Lynk Labs' 120V AC LED technology additionally increases reliability by eliminating drive and power supply components," said Huber.
Building on several years of increasingly successful implementation in general lighting sector applications, Lynk Labs continues to broaden in product offerings and grow the company's IP portfolio surrounding AC LED technology.
The
Tesla T6565
12V ACLED device, manufactured for Lynk Labs by Intematix, takes Lynk Labs' AC LED topology into a single 12VAC chip-level product that is scaled to address higher voltage AC applications with products such as the new SBT51.
The
SBT51
is a 10W 120VAC light engine that has been designed around UL requirements to provide a simple solution from design to end product for OEMs.
Lighting designers and luminaire manufacturers are faced with many complexities as they develop solid state lighting strategies. Lynk Labs AC LED technology reduces these challenges and complexities by offering true "Plug n' Play" LED lighting system solutions that simplify or improve system integration, reliability, thermal management, weight reduction and lighting system scalability for the AC voltage lighting infrastructure.
Contact
Lynk Labs Inc. 2511 Technology Drive, Elgin IL 60124 Tel: 847.783.0123 Fax: 847.783.0130
E-mail:sales@lynklabs.com
Web Site:www.lynklabs.com