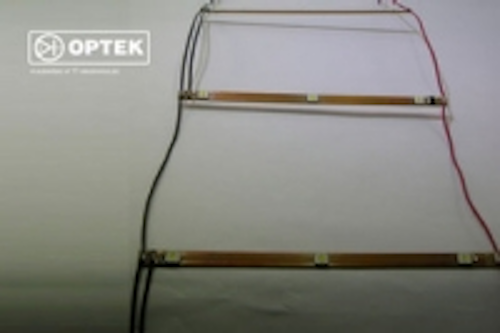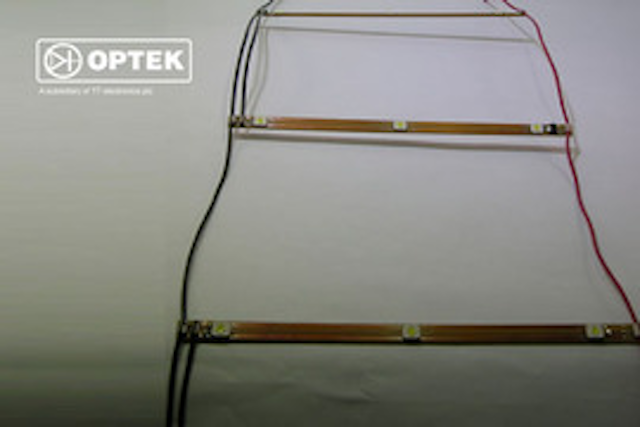 Date Announced: 12 May 2009
LAS VEGAS, NV (May 12, 2009) -- Providing lighting designers with a high intensity, reliable and cost-effective backlighting solution, TT electronics OPTEK Technology has developed a new family of visible LED backlighting strips. Designated OPA775 and OPA776, the "Jacob's Ladder" series of backlighting strips are offered with daylight white LEDs and designed specifically for illumination of small- and medium-size display applications where lighting intensity and reliability are imperative.
"Using 'Jacob's Ladders' provides significant benefits to our customers, including the ability to utilize one power supply and a single connector for the entire configuration, whether you are implementing one or 60 backlighting strips into your application," said Alan Bennett, vice president of sales for OPTEK Technology. "Also, the 120-degree light beam angle is ideal for illuminating small- and medium-size areas, such as light boxes and PoS displays."
Additional applications for the OPA775 and OPA776 LED backlighting strips include architectural accent lighting, under-counter lighting, media illumination and large channel letter lighting.
The OPA775 strips are designed for operation at 12V. Each OPA775 consists of one strip of 7.5" FR-4 board with three LEDs. One to 30 strips may be connected per buss. The OPA775 features Zierick 1286T connectors, enabling the construction of the "Jacob's Ladder." The total current drawn by 30 strips is 3.75A, and the strips are shipped in sets of 30.
The OPA776 backlighting strips match the performance of the OPA775 devices but are operated at 24V. One OPA776 consists of two strips of 7.5" FR-4 board with three LEDs on each strip and a jumper wire connecting them. The OPA776 strips are shipped in sets of 60, and the total current drawn by 60 strips is 3.75A.
Luminous flux for both the OPA775 and OPA776 backlighting devices is 50 lumens per strip, with a drive current to each LED of 125mA. OPTEK crimps the buss wires at manufacturing and spaces the LED strips at 6" intervals.
For more information about OPTEK's LED products and capabilities, contact TT electronics OPTEK Technology at 1645 Wallace Dr., Carrollton, TX, 75006; call 972-323-2200, or visit OPTEK on the web at http://www.optekinc.com/viewparts.aspx?categoryID=79. In Europe, contact JP Delaporte at info@optek-europe.com. In Asia, contact T.H. Swee at thswee@optekasia.com or call +852-9190-4641.
OPTEK is a leading manufacturing and solutions provider for sensing and illumination covering the infrared, visible and ultraviolet spectrum; with standard as well as application specific products for a variety of markets, including, but not limited to office machines, industrial equipment, encoders, automotive electronics, military and high-reliability applications, medical diagnostic equipment and solid-state lighting. Headquartered in Carrollton, TX, the company is ISO/TS16949:2002 and BS EN ISO 9001:2000 certified, as well as ITAR registered. OPTEK Technology was acquired by TT electronics in December 2003.
TT electronics plc is a global electronics company manufacturing a broad range of advanced electronic components, assemblies and sensor modules for the automotive, industrial, telecommunication, computer and aerospace markets.
Contact
Beth Gaddy, BtB Marketing
E-mail:beth.gaddy@btbmarketing.com