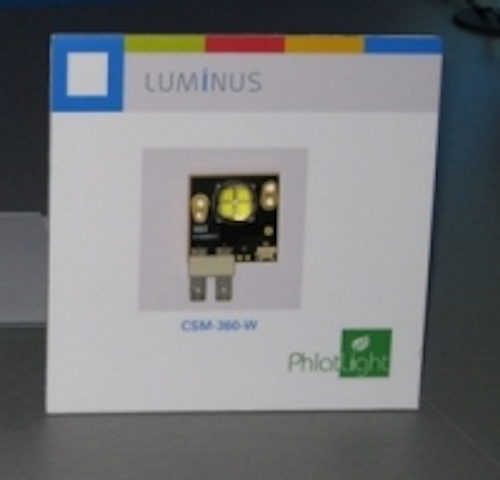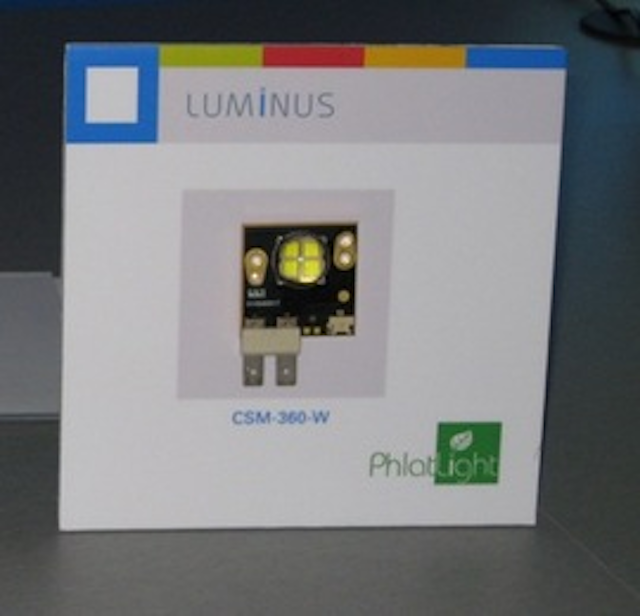 Date Announced: 05 May 2009
Innovative LED Design Capable of Delivering 6,000 Lumens From a Single LED Package
NEW YORK - Luminus Devices, Inc., today announced the introduction of the CSM-360-W PhlatLight® LED, the newest in a series of white LEDs designed specifically for general lighting applications. The CSM-360-W combines the benefits of large monolithic chips in a multi-chip configuration to deliver a Chip-on-Board LED package capable of delivering 6,000 lumens. This new class of LEDs enables a variety of lighting applications not previously possible with traditional LEDs, and as a result fixture manufacturers are now able to target 10,000 lumens and higher applications with as few as two PhlatLight LED packages.
"The CSM-360-W has a lumen output range that provides industry-leading efficiency and delivers a new level of performance not previously realized in a single LED package," said Chad Stalker, Director of Product Marketing and Business Development for the Lighting Business Group at Luminus Devices. "In addition to the PhlatLight LED benefits of simplified fixture design with fewer LEDs and corresponding optics and drivers, the CSM-360-W also provides a package platform making it possible to service and upgrade the LED itself instead of replacing the whole fixture."
The CSM-360-W is unique in several ways. It consists of four separate monolithic chips, each with a light-emitting surface of nine square millimeters in size, closely packed in a single Chip-on-Board package. The CSM-360-W produces over 3,600 lumens at high efficacy and over 6,000 lumens at high output. PhlatLight LEDs are mercury-free, highly reliable and provide a lifetime of 60,000 hours with lumen maintenance of greater than 70 percent.
The CSM-360 White Series PhlatLight LED will be available for sampling in late May, 2009 and with production volume shipments starting in July, 2009.
Luminus will be demonstrating the new CSM-360-W at LFI, May 5-7 in booth #2983 at the Jacob Javits Convention Center.
About Luminus Devices
Luminus Devices, Inc. develops and manufactures high performance solid-state light sources – PhlatLight® LEDs - for a variety of lighting applications. Its headquarters and primary manufacturing facilities are located in Billerica, Massachusetts, U.S.A.
PhlatLight is a registered trademark of Luminus Devices.
Contact
Schwartz Communications Bill Keeler or Nicole Slein
E-mail:luminus@schwartz-pr.com
Web Site:www.luminus.com