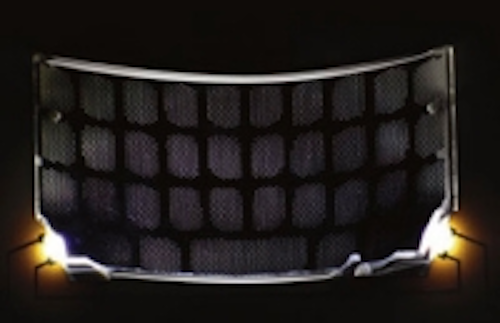 Date Announced: 15 May 2009
LAS VEGAS, NV (May 12, 2009) -- CoActive Technologies KDM, a leading international supplier of dome arrays, keypads, light guides and modules, has expanded its family of light guide foils to include devices with a thickness of less than 200µm.
The light guide foils are designed to evenly distribute light from side-firing LEDs, providing bright, uniform illumination of keypads for handheld electronic devices, typically with just one or two LEDs.
"Along with these new 100-200µm thick devices, we are also developing light guide foils with target thicknesses of 50µm and less. Our in-house 3D optical design capabilities allow us to optimize light distribution and maximize performance in such small devices," said Peter Jeffery, advanced technology manager for KDM.
"With our in-house design capabilities and local support on a global scale, we are able to ramp up extremely quickly (up to 60 million units per line), allowing us to not only lead the industry in cost, but time-to-market as well."
The highly versatile LED-based light guide foils are typically brighter than electroluminescent-based solutions, and eliminate the sonic and electrical noise often associated with EL-based technologies, making them ideal for use in mobile phones, media players, PDAs, and other handheld electronic devices.
Compatible with most common keypad technologies, KDM's RoHS-compliant custom light guide foils are available in thicknesses of 100µm to 200µm. The light guide foils are typically integrated with a dome array for simple assembly. The light guide foils can also be supplied with an adhesive rim.
Backlight coloring can be software-controlled through the use of multiple sets of colored or RGB LEDs, while use of multiple light guide foils provides a zoned illumination effect. KDM's light guide foils are constructed with polycarbonate or TPU (thermoplastic polyurethane) film materials. Typical luminance is >20Cd/m2 from two LEDs at 5mA/LED.
KDM houses state-of-the-art computerized modeling, along with rapid tooling design and world class environmental testing and validation capabilities. The company has global manufacturing, engineering and sales support located throughout the United States, Europe and Asia.
Each light guide foil is custom designed to suit specific applications. Please contact KDM for pricing and availability.
About CoActive Technologies KDM
KDM is a division of CoActive Technologies, a privately held company manufacturing electromechanical switches, interface controls, keypads, dome arrays and modules.
Contact
Beth Gaddy, BtB Marketing
E-mail:beth.gaddy@btbmarketing.com