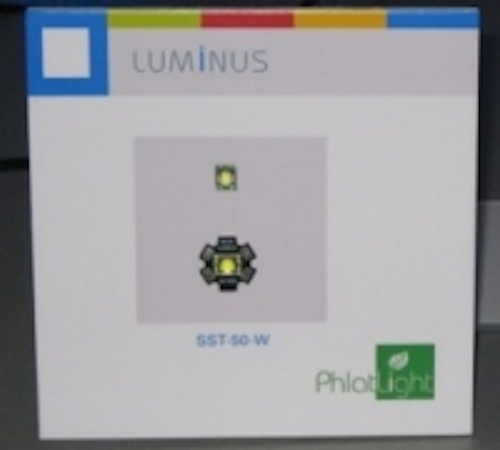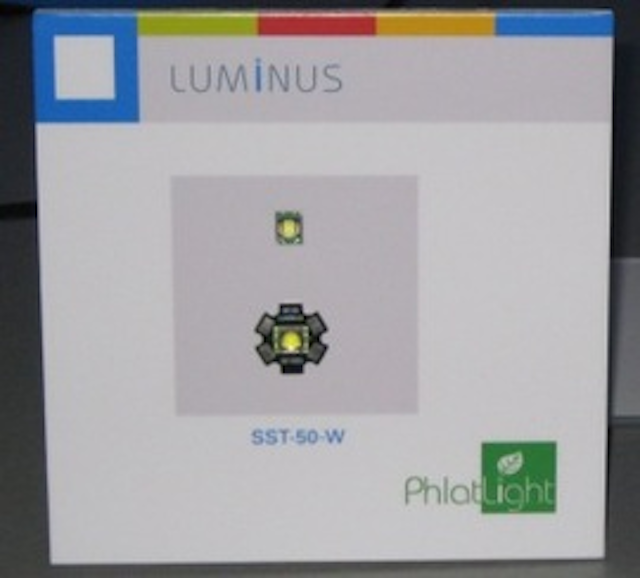 Date Announced: 05 May 2009
New White PhlatLight LED Expands Company's Surface-mount LED Offering
NEW YORK - Luminus Devices, Inc., today announced the introduction of the SST-50 White PhlatLight® LED, the first 5.5W monolithic large-chip LED in a surface-mount (SMT) package. The SST-50 is designed to integrate directly with existing LED lay-outs and enable the next level of performance required by fixture designers to deliver LED-based solutions for mainstream applications in the general, architectural and portable lighting markets.
"In a direct response to the growing needs of lighting fixture designers, the SST-50-W PhlatLight LED offers a drop-in compatible SMT LED to existing, lower-power emitters," said Chad Stalker, Director of Product Marketing and Business Development for the Lighting Business Group at Luminus Devices. "It enables lighting fixture designers and manufacturers to simplify designs by reducing the number of LEDs in the system while maintaining high performance levels. Additionally, fixture manufacturers can easily increase light output of existing designs by a factor of two by simply replacing the current LEDs with the new, higher-output SST-50-W PhlatLight LED."
The light-emitting surface of the SST-50-W white PhlatLight LED is a single, monolithic chip that is five square millimeters in size. The SST-50-W produces 550 lumens at 5.5W (100 LPW at 6500K CCT) and upwards of 1,250 lumens at its maximum rated drive current. Available in an SMT package, the SST-50-W integrates seamlessly with standard SMT manufacturing process and equipment. PhlatLight LEDs are mercury-free, highly reliable and provide a lifetime of 60,000 hours with lumen maintenance of greater than 70 percent. The SST-50-W is ideally suited for a variety of applications including portable lighting and general lighting as well as architectural lighting where high performance and high efficacy in a standard package is needed.
The SST-50 is available for sampling now with volume shipments starting in July. Luminus will be demonstrating the new SST-50-W at LFI, May 5-7 in booth #2983 at the Jacob Javits Convention Center. To schedule a meeting with a Luminus spokesperson or for more information contact Bill Keeler or Nicole Slein of Schwartz Communications at (781) 684-0770 or luminus@schwartz-pr.com.
About Luminus Devices
Luminus Devices, Inc. develops and manufactures high performance solid-state light sources – PhlatLight® LEDs - for a variety of lighting applications. Its headquarters and primary manufacturing facilities are located in Billerica, Massachusetts, U.S.A. For more information, visit www.luminus.com. PhlatLight is a registered trademark of Luminus Devices.
Contact
Schwartz Communications Bill Keeler or Nicole Slein
E-mail:luminus@schwartz-pr.com
Web Site:www.luminus.com