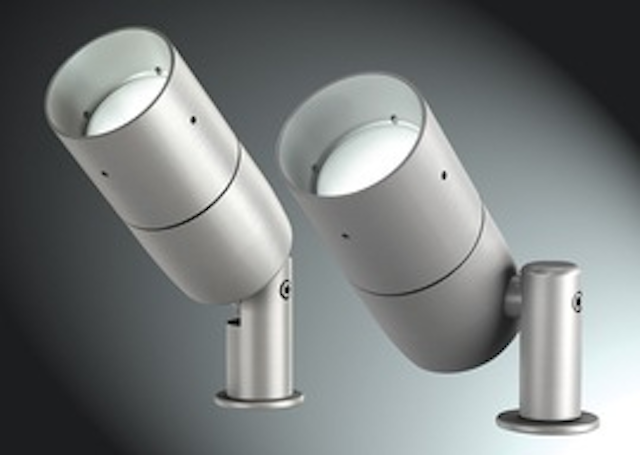 Date Announced: 01 May 2009
PEACHTREE CITY, Ga. -– Cooper Lighting, a division of Cooper Industries, Ltd. (NYSE: CBE), has announced that its Lumière Cambria 203 architectural accent and landscape fixtures are now available with LED lamping. Specifically designed for low voltage systems, the Cambria 203 LED module design enables the integration of both halogen and LED fixtures on the same lighting circuit (12V).
The 203 LED fixtures can be installed in the same way as any other low voltage system, so integration of the LED technology into both new and retrofit applications is simple and seamless.
The Cambria 203 LED fixtures are offered in three color temperatures (3000K, 4300K and 6300K) and in three optical distributions (7º, 20º and 25º). The proprietary MR16-style LED module design incorporates a thermal feedback control circuit that monitors onboard temperatures and modifies its own operating parameters to optimize system performance and maximize life.
The architectural landscape accent fixtures are available with fully adjustable side swivel stem (203, 203-FL), center rear swivel (203-CRS) or rear flush mount (203-FM). Lenses, louvers and color or dichroic filters can be combined—up to three at once—to create multiple lighting effects. Lumière's exclusive Siphon Protection System (S.P.S.) prevents water from siphoning into the fixture through its own lead wires.
The fixture is precision machined from corrosion resistant 6061-T6 aluminum or solid brass, bronze, copper or stainless steel. Available painted finishes include Black, Bronze, City Silver, Verde and White.
Cooper Lighting's Lumière next generation offering in the LED field builds upon the latest available device and driver technology and is fully upgradeable as the technology continues to evolve.
For additional information on the Cambria 203 LED fixtures or other Lumière products, visit www.cooperlighting.com or email TalkToUs@CooperIndustries.com.
About Cooper Lighting
Cooper Lighting, a subsidiary of Cooper Industries (NYSE: CBE), is the leading provider of innovative, high quality lighting fixtures and related products to worldwide commercial, industrial, retail, residential and utility markets. For more information, visit www.cooperlighting.com.
About Cooper Industries
Cooper Industries, Ltd. (NYSE: CBE) is a global manufacturer with 2008 revenues of $6.5 billion, approximately 88 percent of which are from electrical products. Founded in 1833, Cooper's sustained level of success is attributable to a constant focus on innovation, evolving business practices while maintaining the highest ethical standards, and meeting customer needs. The Company has eight operating divisions with leading market share positions and world-class products and brands. Cooper, which has manufacturing facilities in 23 countries as of 2008, is incorporated in Bermuda with administrative headquarters in Houston, TX. For more information, visit the web site at www.cooperindustries.com.
Contact
Cooper Lighting (770) 486-4800
E-mail:TalkToUs@CooperIndustries.com
Web Site:www.cooperlighting.com