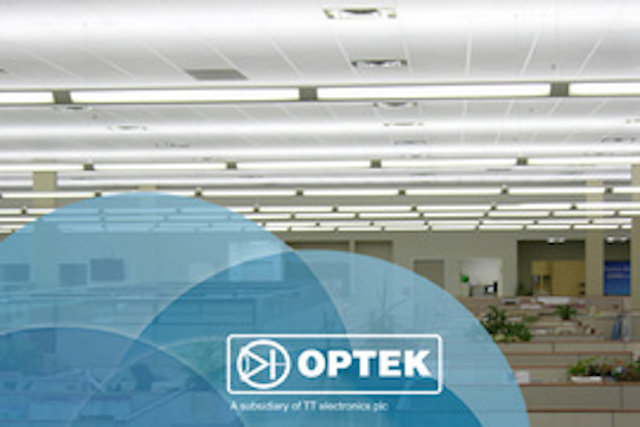 Date Announced: 05 May 2009
NEW YORK, NY -- Providing lighting designers with highly consistent LED color matching capabilities, TT electronics OPTEK Technology now offers multi-chromatic tuned light engines.
OPTEK's chromatic tuning process produces solid-state lighting solutions with remarkable module-to-module consistency, such that differences in color temperature of each light engine are indistinguishable to the human eye.
The standard measure for distinguishing between differing chromaticity is the 4-step MacAdam's ellipse. A reference chromaticity point on MacAdam's 1931 correlated color temperature (CCT) chart represents a given color value, and a 4-step ellipse around that point indicates color variations that are indistinguishable to the human eye.
"We employ a multi-chromatic tuning process to generate white lighting solutions within a single 4-step MacAdam's ellipse, guaranteeing that all light engines built to these specifications produce consistent color," said Roland Chapa, vice president of optoelectronic integrated solutions for OPTEK Technology.
"Whether for indoor or outdoor use, light engines that produce slightly different color temperatures are extremely displeasing to the eye, making tuned white light critical to architectural lighting and general illumination applications," Chapa continued.
OPTEK's solid-state lighting solutions are used extensively in interior, exterior and landscape architectural lighting; commercial and institutional lighting; backlighting of displays, indication and channel lighting; interior and exterior automotive lighting; general illumination; downlights, street and marker lights; beacon lights and aviation lighting; and specialty applications such as retail display case and pool lighting.
For more information about OPTEK's LED products and capabilities, contact TT electronics OPTEK Technology at 1645 Wallace Dr., Carrollton, TX, 75006; call 972-323-2200, or visit OPTEK on the web at http://www.optekinc.com/customvledsolutions.aspx. In Europe, contact JP Delaporte at info@optek-europe.com. In Asia, contact T.H. Swee at thswee@optekasia.com or call +852-9190-4641.
OPTEK is a leading manufacturing and solutions provider for sensing and illumination covering the infrared, visible and ultraviolet spectrum; with standard as well as application specific products for a variety of markets, including, but not limited to office machines, industrial equipment, encoders, automotive electronics, military and high-reliability applications, medical diagnostic equipment and solid-state lighting. Headquartered in Carrollton, TX, the company is ISO/TS16949:2002 and BS EN ISO 9001:2000 certified, as well as ITAR registered. OPTEK Technology was acquired by TT electronics in December 2003.
TT electronics plc is a global electronics company manufacturing a broad range of advanced electronic components, assemblies and sensor modules for the automotive, industrial, telecommunication, computer and aerospace markets.
Contact
Beth Gaddy, BtB Marketing
E-mail:beth.gaddy@btbmarketing.com