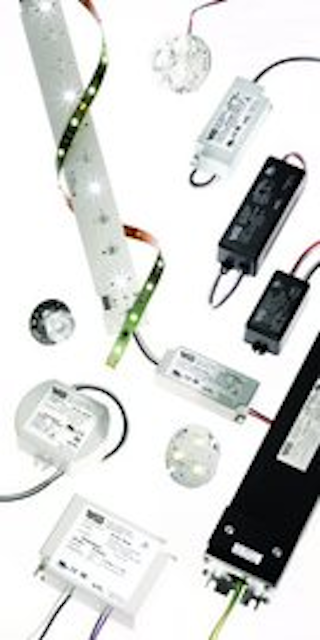 Date Announced: 21 May 2009
Lightfair 2009 – Vossloh-Schwabe expands their Micro 120V HID electronic ballast family to 3 wattage type; 20W, 22W and 39W. The 39W is available in two versions; one for C130 lamps and the other for the new Mini-Master Color lamps C179. They weigh only 7ozs, are about 1/6th the size of standard ballasts and have a slim shape which can easily conceal them within the lines of track applications. These physical traits give the lighting designer infinite design options where size and weight have limited them in the past. 3 mounting configurations are offered; feet, no feet and studs for junction box systems.
Complementing these micro ballasts VS has augmented its lampholder offering for low-wattage HID lamps. In addition to our unique interchangeable PGJ5 and Gu6.5 pair VS now offers various styles of G12, GX10, GX8.5 and G8.5 lampholders.
LED modules
Answering a market need VS is proud to introduce the TriplePowerEmitter IP67 LED module. High Output LEDs encased in an impervious potting material not only create a rugged, high performance product but one that is free of otherwise necessary gaskets/seals to protect from the elements.
With luminous efficacies up to 90 lm/W and low thermal resistance of 3.5 K/W, accelerated life tests have proven 50,000hrs to L70 can be met or in some conditions exceeded. The TPE IP67 is available with high or low CCT, with or without optics and at only 2" diameter is easily retro-fitted into an MR-16 sized housing.
The TPE IP67 is in addition to a diversified line of LED modules perfectly match by their range of drivers for a complete LED system.
As a leading global manufacturer of components for lighting technology Vossloh-Schwabe is one of the few to provide its international customers with a truly comprehensive product range that responds to regional market needs.
As a member of the Panasonic Electric Works group, Vossloh-Schwabe is represented around the world, engaged in research and involved in all areas that deal with high-quality and reliable components for lighting technology. Vossloh-Schwabe has been developing and implementing new ideas since 1919. All these innovations of lighting components not only left their mark on and helped to change the market, but also enjoy great popularity with our customers worldwide.
Contact
Vossloh-Schwabe, Inc. 629 Central Avenue New Providence, NJ 07974 Phone: 908-464-0264 Vossloh-Schwabe, Inc. 55 Mayview Road Canonsburg, PA 15317 Phone: 724-743-4770 Fax: 724-743-4771
E-mail:todd.darrow.vossloh-schwabe.com
Web Site:www.vossloh-schwabe.com