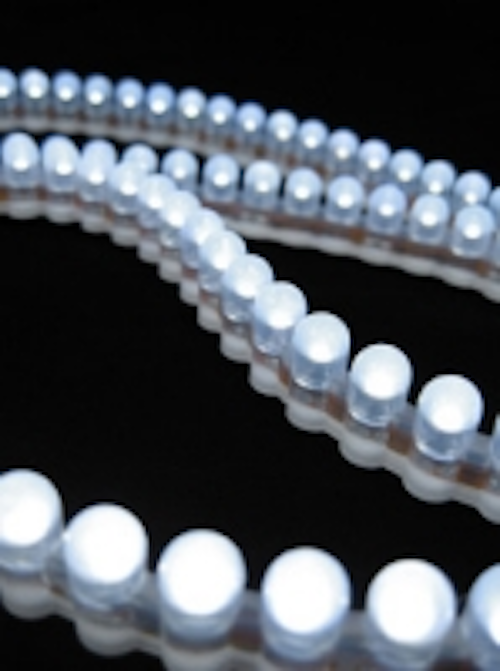 Date Announced: 01 May 2009
Cypress, California -- USHIO America, Inc., recently introduced Pearl-Lux™, flexible, silicone-coated LED light strings. These architectural-grade, LED strings are 1 meter (3.2 feet) in length and contain 96 LEDs for a total wattage of 6 watts for the entire string.
These Japanese-made 12V LED strings are very flexible and silicone coated with a life rating of 50,000 hours with proper thermal management.
They provide limitless possibilities for a variety of general lighting and decorative applications. Pearl-Lux™ offers higher performance and more flexibility than similar LED strips, tapes and rope lighting. This energy saving, long life string is IP67 rated for interior and exterior use.
Pearl-Lux™ strings can be cut to meet size and load constraints. They're ideal for cove lighting, pathway lighting, refrigeration cases, backlighting, signs, shelf lighting, edge lighting, counter lighting, recessed and display lighting.
Pearl-Lux™ LED strings are available in White (6500K) and Warm White (2700K) color temperatures. They are extremely easy to install and have straight and flexible resin mounting channels available.
These strings are UV-free, IR-free, mercury-free, lead-free and RoHS compliant.
For more information on the architectural-grade Pearl-Lux™ series silicone coated LED strings or any of the other Lighting-Edge Technologies from USHIO America, Inc., visit www.ushio.com or call 800-838-446.
About USHIO America, Inc.
USHIO America, Inc. is a leading manufacturer and distributor of lighting products and associated services and control gear in North and South America. Established in 1967 as a subsidiary of USHIO Inc, in Tokyo, Japan, USHIO now carries over 3,500 General Lighting and Specialty products. These Lighting-Edge Technologies™ are provided to a variety of industries such as general illumination, audio-visual, photographic, stage, studio and television, semiconductor, printed circuit, video projection, cinema, UV curing, germicidal, horticulture, graphic arts, flashlight, scientific, medical, dental, ophthalmic, infra-red heating, and many others. For further information, visit www.ushio.com.
Contact
Denny Huang - Sr. Marketing Coordinator Tel: 714.229.3173
E-mail:press@ushio.com
Web Site:www.ushio.com