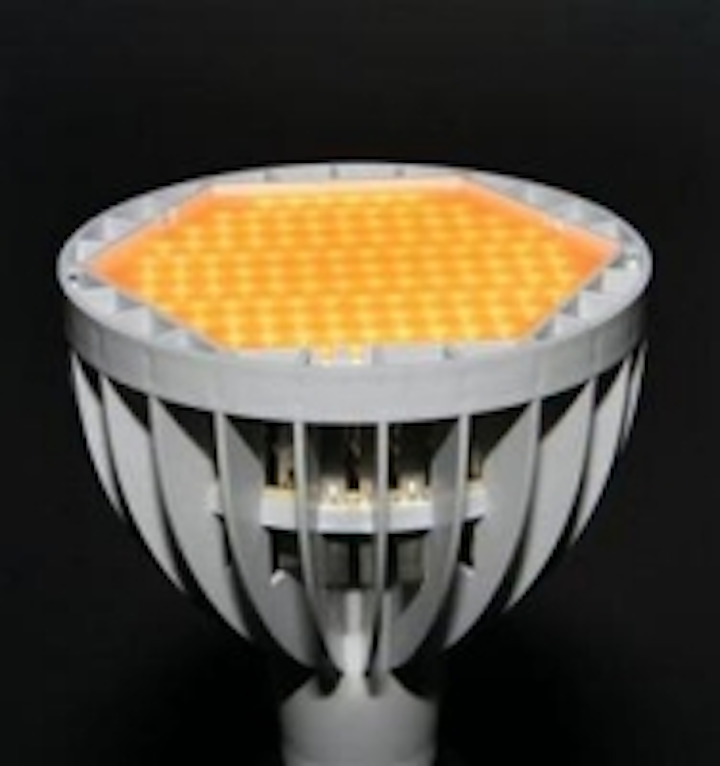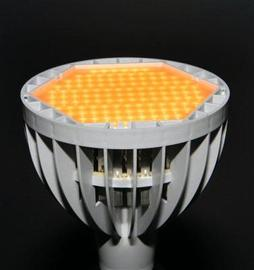 Date Announced: 08 May 2009
-- Lamp that integrates quantum dot technology to be demonstrated at Lightfair 2009; Breakthrough technology combines warm, rich color with LED efficiency, providing 2700K, 90+ CRI at 65 Lumens Per Watt
New York City -– Nexxus Lighting, Inc. (NASDAQ Capital Market: NEXS) and QD Vision, Inc. today unveiled the world's first quantum dot lighting solution that combines the efficiency of LED lighting with the warm color of incandescent bulbs.
The new lamp integrates a quantum dot optic with cool white LEDs to produce color-rich, true incandescent, warm white light which can provide over 80% energy savings and lasts up to 25 times longer than comparable halogen lighting alternatives.
Architects and the lighting design community have been demanding a higher CRI LED product without the efficacy losses typically associated with these lamps. The new Quantum Light™ optic developed by QD Vision, integrated with Nexxus Lighting's patented Array™ Lamp designs and patent-pending technology, solves this critical issue.
The Nexxus Lighting Array™ lamp with the Quantum Light™ optic delivers a true incandescent, warm white, 2700 degree Kelvin lamp with a color rendering index of 90 or greater at over 65 lumens per watt.
The companies will demonstrate the product and technology at Lightfair International 2009 at the Javits Center in New York, New York, May 5 - 7, 2009, Booth #675. The Array Lighting Quantum Light™ solution for all Nexxus Lighting Array Par 30, MR 16 and Par 16 lamps is expected to be available in the 4th quarter of 2009, with volume production in early 2010.
"Nexxus Lighting's new Array LED lamp line is a perfect application for our quantum dot technology," said Dan Button, President and CEO of QD Vision. "This productive partnership, combining QD Vision's Quantum Light™ optic and the leading design capabilities of Nexxus Lighting, has resulted in a product the market has long been demanding – lamps with exceptional color quality and power efficiency together."
"We are excited to add this new high color rendering, true incandescent warm white color choice to our successful Array™ LED lamp product offering", stated Mike Bauer, President and CEO of Nexxus Lighting. "The architectural lighting community has been clear in its demand for better color rendering performance in LED lighting, without sacrificing the efficacy gains you can achieve through solid state solutions."
The product resulting from the Nexxus Lighting/QD Vision partnership was recently demonstrated at a White House ceremony, in which President Obama announced a $1.6 billion disbursement of research funds for clean energy products.
The Nexxus Lighting/QD Vision project was one of only four technologies spun out of MIT that were demonstrated at the event, which featured remarks by MIT President Susan Hockfield.
Because the Nexxus Lighting Array lamps with Quantum LightTM are compatible with a standard, screw-in 'Edison' base, they can easily replace incandescent and halogen lamps in existing downlight fixtures. Just in the US, the DoE estimates, the number of down lights and track heads with Edison base lamp installations equal over 139 million in commercial applications and over 262 million in residential lighting applications. Both companies expect that commercial availability of their high efficiency lamps with high color quality will overcome a major barrier to LEDs and will accelerate the penetration of LEDs in the $4 billion U.S. lamp market. The potential impact on the environment could be significant, a full conversion to LEDs of existing downlights and trackheads in the US (~10% of US fixtures) represents an annual savings of more than 35 billion KW hours (nearly $4 billion), which is the equivalent of nearly 6 power plants or more than 60 million barrels of oil per year.
About Nexxus Lighting, Inc.
Nexxus Lighting is a leader in advanced lighting technology, including solid-state LED and fiber optic lighting systems and controls used in commercial, architectural, signage, swimming pool, entertainment and retail lighting. Nexxus Lighting sells its products through its commercial, sign lighting and pool and spa lighting divisions under the Array™ Lighting, SV Lighting, Advanced Lighting Systems, Lumificient and Nexxus Lighting Pool & Spas brands.
Nexxus Lighting – Life's Brighter™
About QD Vision, Inc.
QD Vision (www.qdvision.com) is a quantum dot product company that delivers highly differentiated lighting solutions to major industries where color, power and design matter. QD Vision's Quantum Light™ platform enables step-change advances over other display and lighting solutions such as liquid-crystal displays (LCDs), plasma displays, light-emitting diodes (LEDs), and even organic LEDs (OLEDs). QD Vision is actively designing products with industry-leading companies in target markets including cleantech applications, such as solid state lighting, consumer electronics, flat panel displays, electronic signage, and defense. Leveraging a first-tier patent position in nanotechnology originating at MIT, QD Vision is a privately held company based in Watertown, Mass.
Contact
Nexxus Lighting: Michael Eckert, Corporate Marketing Manager 704-405-0416 QD Vision: Aquarius Advisers, Mel Webster, 617-494-9800 mwebster@aquariusadvisers.com
E-mail:meckert@nexxuslighting.com
Web Site:www.nexxuslighting.com