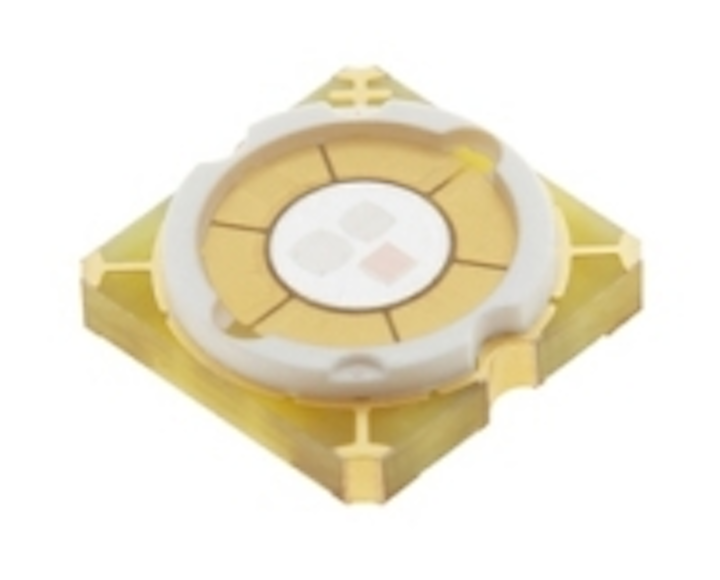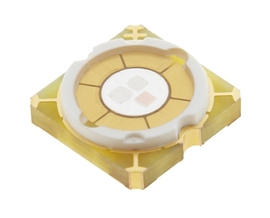 Date Announced: 15 Apr 2009
Features 3 Chips (Red、Green、Blue) in 1 Package - Multicolor, High Brightness, and High-Efficiency in a Surface Mount Package
Everlight Electronics Co., Ltd. has announced the availability of the EHP-B02 3 in 1 Full Color LED in a new surface mount (SMT) package. The EHP-B02 combines the benefits of high power and high efficiency, and each LED has sufficient brightness to replace a lighting fixture consisting of neon lights, CCFL and LED arrays. For LED users, EHP-B02 offers small-size package, high luminous flux and dominant wavelengths.
"The EHP-B02 is perfectly suited for decorative and entertainment illumination applications requiring a small surface mount package" said Allen Lee, Manager of the Lighting Business Unit at Everlight Headquarters Taiwan. "With the EHP-B02 introduction, Everlight continues to expand its LED technology beyond just general lighting and into applications requiring multicolor, high efficiency, and high-brightness light sources."
The Everlight EHP-B02 LED consists of 3 chips mounted onto an Aluminum-cored printed circuit board. It produces 3 watts of power with typical light flux output of 35 lm (green color), 25 lm (red color), and 8 lm (blue) at 350mA. The EHP-B02 is a RoHS-compliant component and meets green environmental initiatives. With its 130° typical viewing angle and low thermal resistance (Rth,j-L = 9 °K/W), the EHP-B02 is ideally suited for a variety of applications, including decorative, entertainment, architectural lighting, TFT LCD display backlight, signal and symbol luminaries for orientation marker lights (e.g. steps, exit ways. etc.), and exterior and interior automotive illumination.
About Everlight Electronics Co. Ltd.
Everlight Electronics Co. Ltd is a global manufacturer of LEDs, displays, infrared and photocoupler components serving various applications in the consumer, computing, automotive, telecommunication and industrial market segments. Everlight's annual growth rate of more than 20 percent over the past ten years is the combined result of its well-engineered products, highly efficient in-house manufacturing facilities and extensive global supply chain. Founded in 1983, Everlight today is a $300 million company headquartered in Taipei, Taiwan, with over 4,000 employees and operations in China, Asia, North America and Europe.
Contact
Everlight Electronics
E-mail:weikailiu@everlight.com
Web Site:www.everlight.com