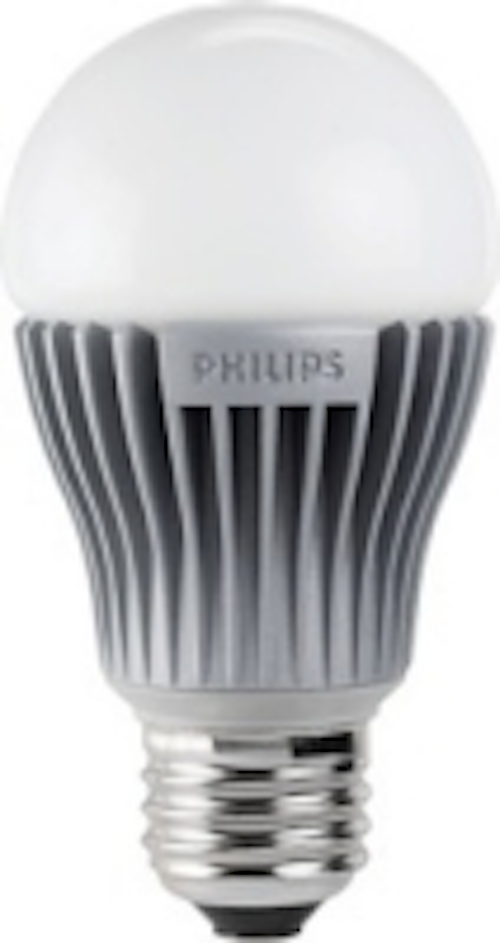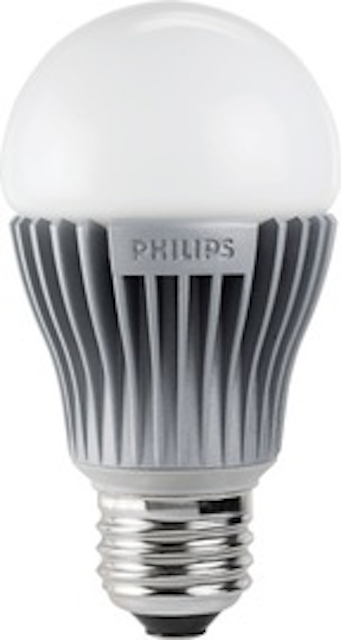 Date Announced: 24 Apr 2009
SOMERSET, NJ – Philips Lighting proudly introduces a range of new SSL retrofit solutions that are readily available to professional lighting users in the North American market today under Philips' new "EnduraLED" product family. These exciting new products include Philips' AmbientLED NR63 (R20) LED Flood Lamp, AmbientLED A-55 Accent Lamp, and AccentLED MR-16 Lamp (10 Degree).
• Philips' new 7 Watt NR63 (R20) LED Narrow Flood Lamp is a long-lasting, high-efficiency, LED-based approach to recessed downlighting and track lighting for the retail and hospitality segments. Sporting a rated average life of 40,000 hours and offering outstanding color consistency, Philips' AmbientLED R-20 indoor flood lamp is currently available to professional users in a warm white version and uses only one-fifth of the energy of a 35 Watt incandescent or halogen bulb while significantly reducing maintenance costs and concerns.
• With a rated average life of 40,000 hours, Philips' new A-55 is a 7 Watt accent lamp that delivers soft white light while using only a fraction of the energy of a 25 Watt incandescent. Offering superb color consistency, the lamp is ideal for use in wall sconces, fan lamps, and a range of hospitality applications.
• Ideal for showcasing artwork, highlighting objects at close range or illuminating display cases, Philips' MR-16 (10 degree) is a 4 watt bulb that will not fade colors in paintings or fabric. The MR-16 (10-degree) has a rated average life of 35,000 hours. A 25-degree MR-16 product will be available this Fall.
"Philips' broad and expanding range of SSL retrofit solutions currently represent very real and viable energy-efficient alternatives for professional lighting users today and, as a result, there has never been a better time for the market to capitalize on its SSL retrofit opportunities," says Ed Crawford, CEO of Philips North America Lamps/Lighting Electronics. "Through our demonstrated expertise in all areas of the LED chain, from chip design to heat management to optics and more, Philips is delivering innovative, energy-efficient solutions that meet end user needs while fully promoting environmental responsibility and sustainability and is helping to drive a brighter and more sustainable future for generations to come."
About Royal Philips Electronics
Royal Philips Electronics of the Netherlands (NYSE: PHG, AEX: PHI) is a diversified Health and Well-being company, focused on improving people's lives through timely innovations. As a world leader in healthcare, lifestyle and lighting, Philips integrates technologies and design into people-centric solutions, based on fundamental customer insights and the brand promise of "sense and simplicity". Headquartered in the Netherlands, Philips employs approximately 116,000 employees in more than 60 countries worldwide. With sales of $38 billion in 2008, the company is a market leader in cardiac care, acute care and home healthcare, energy efficient lighting solutions and new lighting applications, as well as lifestyle products for personal well-being and pleasure with strong leadership positions in flat TV, male shaving and grooming, portable entertainment and oral healthcare.
Contact
Philips Lighting Electronics North America Susan Bloom
E-mail:susan.bloom@philips.com
Web Site:www.philips.com