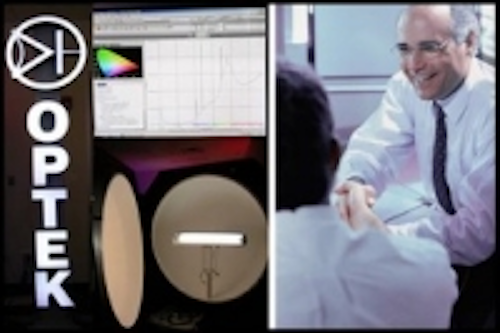 Date Announced: 13 Apr 2009
CARROLLTON, TX (April 13, 2009) — Providing engineers with integrated design and manufacturing expertise for solid-state light engines, as well as infrared and ultraviolet technologies, TT electronics OPTEK Technology offers a full suite of custom capabilities in the design and development of solid-state lighting solutions.
OPTEK's custom capabilities (one of the industry's best) include thermal management designs using Optotherm™ (metal core) and other heatsink technologies; LED driver and control circuit design; metal core PCB layout and assembly; secondary optics design and analysis; optical test lab including an integrating sphere, spectroradiometer, LED goniometer, and on-axis intensity measurement tester; custom housing and injection molding capabilities; and other value-added services.
"While many companies are capable of selling LEDs, the key to a successful integrated lighting solution is partnering with an expert who will act as an extension of your engineering team to assist in all aspects of designing solid-state lighting," said Roland Chapa, vice president of optoelectronic integrated solutions for OPTEK Technology.
"Our capabilities include not only supplying LED components and assemblies, but also engineering thermal management solutions. Our state-of-the-art visible LED lab enables us to provide more functional products as well as design and manufacturing guidance outside the conventional lighting box."
OPTEK's solid-state lighting solutions are used extensively in commercial and institutional lighting, backlighting of displays, indication lighting, channel lighting, interior and exterior automotive lighting, general illumination, downlights, street and market lights, beacon lights, aviation lighting and specialty applications such as under-counter and pool lighting.
OPTEK is exhibiting at Lightfair International from May 5-7, 2009 in booth #3164.
For more information about OPTEK's LED products and capabilities, contact TT electronics OPTEK Technology at 1645 Wallace Dr., Carrollton, TX, 75006; call 972-323-2200, or visit OPTEK on the web at http://www.optekinc.com/viewparts.aspx?categoryID=46. In Europe, contact JP Delaporte at info@optek-europe.com. In Asia, contact T.H. Swee at thswee@optekasia.com or call +852-9190-4641.
OPTEK is a leading manufacturing and solutions provider for sensing and illumination covering the infrared, visible and ultraviolet spectrum; with standard as well as application specific products for a variety of markets, including, but not limited to office machines, industrial equipment, encoders, automotive electronics, military and high-reliability applications, medical diagnostic equipment and solid-state lighting. Headquartered in Carrollton, TX, the company is ISO/TS16949:2002 and BS EN ISO 9001:2000 certified, as well as ITAR registered. OPTEK Technology was acquired by TT electronics in December 2003.
TT electronics plc is a global electronics company manufacturing a broad range of advanced electronic components, assemblies and sensor modules for the automotive, industrial, telecommunication, computer and aerospace markets.
Contact
Beth Gaddy BtB Marketing 919-872-8172
E-mail:beth.gaddy@btbmarketing.com