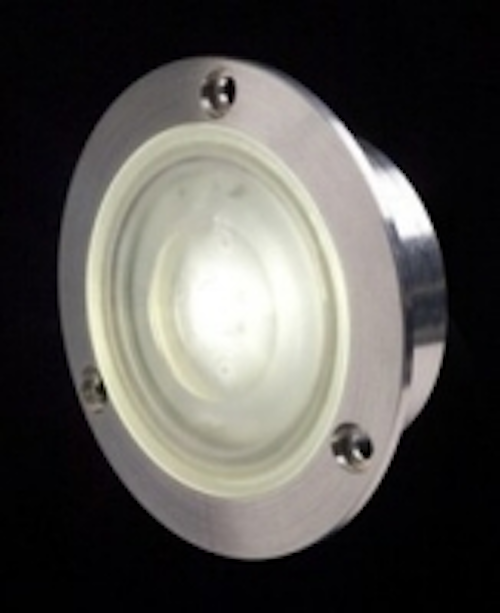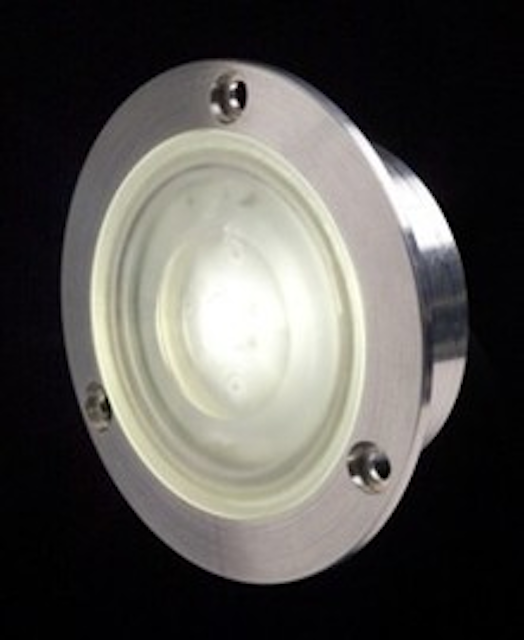 Date Announced: 15 Apr 2009
Energy-Saving LED Replacement for Popular Appliance and Display-Case Light Fixture Design Now Available
A First in LEDs for Illumination: New Off-the-Shelf OptoElectronix 180-Degree LED Floodlights Deliver up to 60-Watt Light Equivalent With 75-Percent Energy Savings and 50,000-Hour Life
OptoElectronix today announced a breakthrough in the use of LEDs for illumination: the new ULE21VW1-F series of small, highly efficient, 180-degree LED modules ideal for retail display lighting, appliances, and task lights. The round, 60mm (2.35-inch) diameter, aluminum modules are precisely engineered for optimal thermal management. They integrate the LED, lens, and electronics, and are rated for 50,000 hours. The modules are designed to flush mount through a standard 44.5mm (1.75-inch) mounting hole with three screws, and the flange and lens are only 4mm (0.16 inches) thick.
These off-the-shelf modules will appeal to manufacturers who wish to offer their end users the significant energy savings and reliability of an LED solution. The ULE21VW1-F-25W, for example, offers an 85% savings in total cost of ownership (TCO), including reduced maintenance and replacement bulb cost, as well as energy cost savings over a five-year period of continuous operation. In a commercial application this would equate to an amortization period of 21 months.
Each module uses about one-fourth the energy of incandescent lamps with comparable light output. All variants come in cool white (6,000K) and warm white (3,000K), and connect directly to 12VDC or 12VAC power sources. All four models have a 180-degree beam angle.
1. ULE21VW1-F-25W: 200 lumens at 3.6 watts, typical; 25-watt equivalent
2. ULE21VW1-F-38W: 450 lumens at 7.2 watts, typical; 38-watt equivalent
3. ULE21VW1-F-45W: 600 lumens at 10.8 watts, typical; 45-watt equivalent
4. ULE21VW1-F-60W: 900 lumens at 14.4 watts, typical; 60-watt equivalent
The new ULE21VW1-F series is based on the OptoElectronix(TM) Universal Light Engine(TM) platform -- an important new lighting platform that provides the world's highest LED light output per watt with the lowest electrical losses. Unique, proprietary thermal design maximizes heat transfer and contributes significantly to the 50,000-hour life.
The motivation for replacing energy-hogging incandescent light sources with LEDs is compelling. LEDs can deliver four to five times the amount of light per watt of power versus incandescent light sources, and can last indefinitely.
"We believe that the future of illumination is LEDs," said Chuck Berghoff, CEO of OptoElectronix. "The significant energy savings and ultra-long service lives will make LEDs the only choice for illumination. LEDs can be immediately integrated into products today such as appliances, display cases, and light fixtures where they are ideal for both replacement and new design applications."
Berghoff says that the challenges for LED illumination have been in four areas: light output, color rendering ability, manufacturing cost, and configuration standards -- each of which is intimately interrelated with the other. "We believe that we are at the forefront of LED-based illumination," he said.
The ULE21VW1-F-25W and the ULE21VW1-F-38W LED Universal Light Engine modules are available through Nu Horizons Electronics, www.nuhorizons.com/nusolutions/lighting/oei/, or at www.optoelectronix.com. The ULE21VW1-F-45W and the ULE21VW1-F-60W will be available on June 1, 2009.
The Market for LED Lighting
According to Strategies Unlimited, the dollar value of the LED component market will rise from $377 million in 2007 to $1.646 billion in 2012. OptoElectronix estimates that the light engine market, which includes the LEDs, thermal network, power driver circuitry, and optics -- all incorporated into one module -- is approximately 3.4 times that, or $5.516 billion in 2012.
About OptoElectronix
OptoElectronix is the leader in "The Art of LEDs" -- the conception, design, and manufacture of cutting-edge, standard, highly efficient LED-based light engines. LEDs will ultimately obsolete incandescent, halogen, and florescent lamps for most residential and commercial applications. To this end, OptoElectronix brings together many decades of unique expertise and experience in LED systems, an intimate knowledge of the lighting industry, and a thorough understanding of the manufacturing disciplines and requirements of both. OptoElectronix is currently focused on introducing a series of LED-based platforms that can be implemented into virtually any lighting application. The company is well on its way to building critical mass in the market that will enable LED lighting to achieve its promised efficiencies in the next decade. Headquartered in San Jose, California, the company has LED manufacturing operations in Penang, Malaysia with design centers in San Jose and Penang.
Contact
Mike Bottini OptoElectronix, Inc. Ph: 408-717-0278
E-mail:mbottini@optoelectronix.com
Web Site:www.optoelectronix.com