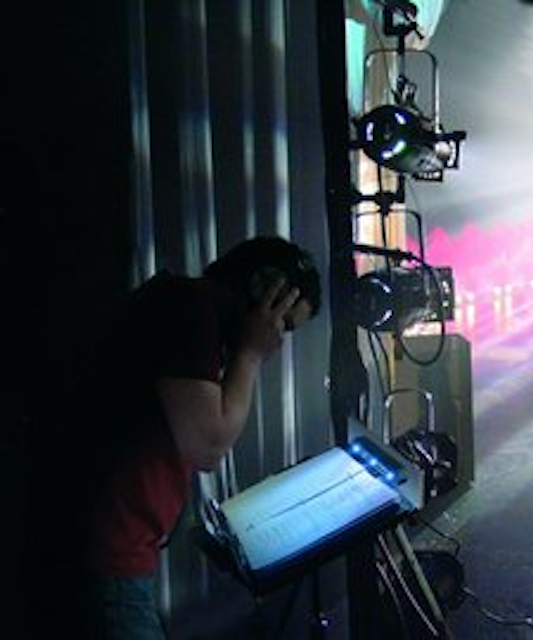 Date Announced: 09 Apr 2009
In theatres, at film shoots or events lighting conditions are often not up to standard for those working behind the scenes. With its flexible new Dot-it Backstage Blue LED lamp OSRAM puts things right. This little everywhere-light can be installed without a power cable wherever unobtrusive lighting is required, such as on mixing consoles at concerts or backstage during performances.
The Dot-it Backstage Blue is a low-cost, flexible LED lamp for lighting and sound engineers as well as for anyone else who does not wish to be seen as they work backstage at concerts or other locations but still requires good light to work in. It has a touch sensor to switch its three bright blue LEDs on and off. The LEDs' linear arrangement provides especially wide light distribution. In addition, it can be swivelled by up to 90 degrees so it always sheds light exactly where it is needed at any particular time.
Thanks to its low weight and dimensions (17.8cm long) the Dot-it Backstage Blue can be installed virtually anywhere. Three different mounting options provide additional flexibility – the light that goes anywhere can either be mounted using adhesive tape, hook and loop or a magnetic strip.
As the Dot-it Backstage Blue is powered by three small 1.5V batteries (AAA), there is no need for awkward cables. The highly efficient LEDs also ensure prolonged battery life and maximum self-reliance. When required, the batteries can be easily replaced thanks to the sliding back cover.
Contact
OSRAM, Lars Stühlen Tel: +49-89-6213-2597 Fax: +49-89-6213-3457
E-mail:l.stuehlen@osram.com
Web Site:www.osram.com