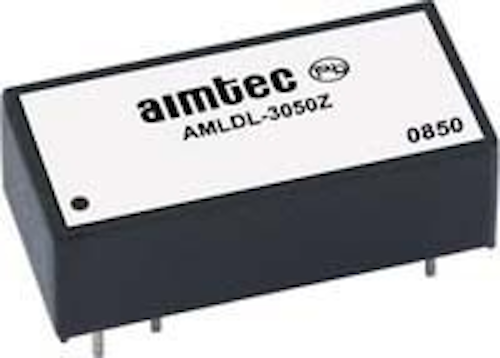 Date Announced: 07 Apr 2009
-- Aimtec feature-rich LED drivers provide high output current (up to 1A) in small DIP 14 and DIP16 package
Montreal, Canada –- Aimtec Inc. expands its AMLDL-Z series of constant current LED drivers to include 4 new models with output currents as high as 1A.
The AMLDL-Z series now includes 6 models with a wide input range of 7-30VDC, a wide output range of 2-28VDC and constant output currents of 300mA, 350mA, 500mA, 600mA, 700mA and 1A, for driving either a single unit or long strings of LEDs.
Efficiently designed in a compact DIP14 (20.32 x 10.16 x 6.88 mm) and DIP16 (23.37 x 13.97 x 10.16 mm) package, Aimtec's AMLDL-Z drivers provide incredible value with features such as remote ON/OFF control function and PWM and analog voltage dimming control (0 – 100%), making these LED drivers ideal for specialized and general purpose LED lighting applications.
With a high efficiency rate of 95%, the AMLDL-Z drivers are designed to be as reliable as the LEDs they drive, allowing them to be used at an operating temperature of -40oC up to +85oC at full load.
Aimtec's LED drivers provide turn key solutions that require no external components, for easy integration into a multitude of LED lighting applications, including include advertising landscaping, displays, road and rail traffic signs and signals, exterior and interior lighting for automotive, consumer products and a wide range of industrial products, including telecommunication applications.
AMLDL-Z provides excellent quality/cost value and are competitively priced starting at $10.66/1000+.
Samples are available from stock and can be ordered immediately.
About Aimtec Inc.
Aimtec is a global supplier of modular AC-DC and DC-DC switching power converters and LED drivers for a wide range of industrial, IT, telecom, datacom and medical applications. In addition to an expanding catalogue of thousands of low watt modular power converters, Aimtec provides complete design and engineering support for customized power supply requirements.
Aimtec is an emerging leader in analog technology by offering cost effective, feature-rich modular DC/DC switching power supplies which provide many competitive advantages. With its manufacturing facilities in Taiwan, and its worldwide headquarters in Montreal, Canada, Aimtec's products are supported by world class customer and technical support.
An ISO 9001:2000 accredited organization, the company's design, manufacturing and quality control standards allow it to consistently deliver power converters that meet or exceed clients' and end users' expectations. Safety and regulatory standards and include RoHS, cULus, CE and CB.
Contact
Press Contact: Louise Coté Tel: +1-514-620-2722 ext. 212
E-mail:louise.cote@aimtec.com
Web Site:www.aimtec.com