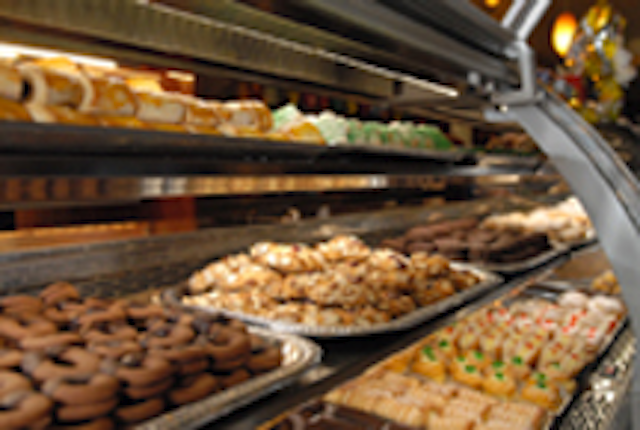 Date Announced: 08 Jul 2009
In an effort to reduce energy consumption and to enhance the appearance of their products, the Villa Italia Bakery, in Schenectady New York, has replaced all of the fluorescent lighting in their pastry display cases with maintenance free, energy efficient T5 LED lighting from Marktech LED Lighting of Latham, NY.
"Saving energy and doing what is environmentally responsible was an easy choice for us," says Bobby Mallozzi, owner of Villa Italia, "and seeing how great our baked goods looked under the new T5 LED lighting made making the switch even sweeter!"
The new solid-state T5 LED tubes were chosen over other technologies because of their high reliability and low operating temperature. The new T5 LED lighting has also enhanced the presentation of the baked goods because of the warm white color of the LED lighting over the cool tones of fluorescents. In addition to making the product more appealing, the shelf life was also extended. This can be attributed to the LEDs giving off less heat and reducing the interior case temperatures. The T5 LED lighting system also features a long life of up to 50,000 hours and contains no hazardous materials to harm the environment. Moving to "Green" LED technology will have immediate as well as long term benefits for the business including lower energy consumption, reduced electricity bills and less maintenance costs.
Bobby Mallozzi adds "We are continually looking at ways to become a greener company and to do our part to protect the environment. LED lighting and the advantages it presents just make sense for our business."
About Villa Italia
In the summer of 1965 Joe Mallozzi purchased a small pizza place in the town of Rotterdam, NY. He quickly phased out the pizza to concentrate on miniature Italian pastries and cakes. In 1967 he met and married Elena Macchiarella and together they each contributed their own unique talents to grow the business. The Mallozzi children, Christine, John and Bobby, joined the family business and the shop was relocated in 2005 to downtown Schenectady. Villa Italia continues to make all the great pastries and cakes that Joe and Elena introduced years ago and have added a few improvements along the way. Villa Italia is located at 226 Broadway, Schenectady, NY 12305. Phone: 518.355.1144. Website: www.villaitaliabakery.com.
About Marktech LED Lighting Products
With over 25 years of LED industry experience, Marktech LED Lighting is pleased to offer the next generation of energy-efficient lighting for home, office or business use. Marktech specializes in providing solutions for challenging lighting designs by offering the best possible selection of high quality, high-brightness LED lighting products at the best possible prices. We offer a variety of LED lighting products and fixtures that can directly replace existing incandescent, fluorescent and halogen bulbs in household and commercial lighting. In this way we hope to encourage widespread use of LEDs to save energy, save money, and provide better lighting solutions for a greener tomorrow.
Contact
Carrah Daley Marketing Manager Marktech Optoelectronics 3 Northway Lane North Latham, New York 12110 Phone: 518.956.2980 Fax: 518.785.4725
E-mail:info@marktechledlighting.com
Web Site:www.marktechLEDlighting.com