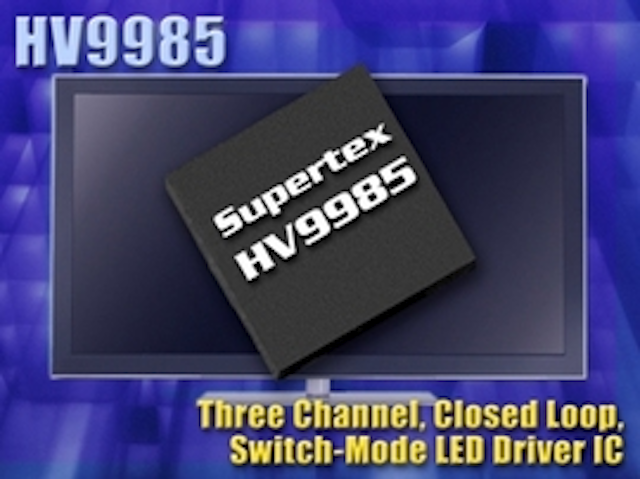 Date Announced: 02 Jul 2009
HV9985 Features Closed Loop System to Achieve High Efficiency
SUNNYVALE, Calif. - Supertex (Nasdaq GS: SUPX), a recognized leader in high voltage analog and mixed signal integrated circuits (ICs), today introduced the HV9985, a three channel LED driver IC designed to provide high LED current accuracy through closed loop control of the output current. The IC is ideal for driving multiple strings of backlight or edgelight LEDs in LCD televisions.
The HV9985 contains three peak current mode controllers that provide feedback to the IC and ensure higher efficiency and higher accuracy. Gate drivers within the chip are optimized for driving logic level FETs at 0.25A sourcing or 0.5A sinking. Each output current can be individually dimmed via linear or PWM dimming methods.
"The HV9985's closed loop system dynamically adjusts its output voltage for excellent line and load regulation of the LED current," states Ahmed Masood, Vice President of Marketing for Supertex. "Integrating three channels in a single package ensures better current matching between strings as well as reducing the total component count of the system."
The HV9985 is available in 40-lead QFN and 44-lead QSOP packages (HV9985K6-G and HV9985QP-G, respectively). The parts are Green and RoHS compliant. Samples of the HV9985K6-G are available from stock. Samples of the HV9985QP-G will be available in three weeks. Lead-time for production quantities is 4-6 weeks ARO for the HV9985K6-G and 6-8 weeks ARO for the HV9985QP-G. Pricing is US$1.98 each for the HV9985K6-G and US$2.30 for the HV9985QP-G, both in 1K quantities.
About Supertex
Supertex, Inc. is a publicly held semiconductor manufacturer, focused on high voltage analog and mixed signal products for use in the medical, imaging, automotive, industrial, telecommunication, networking, and consumer electronics industries.
Contact
Supertex Kenneth Vickers
E-mail:kennethv@supertex.com
Web Site:www.supertex.com