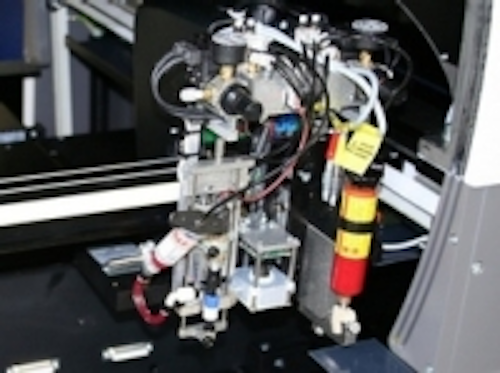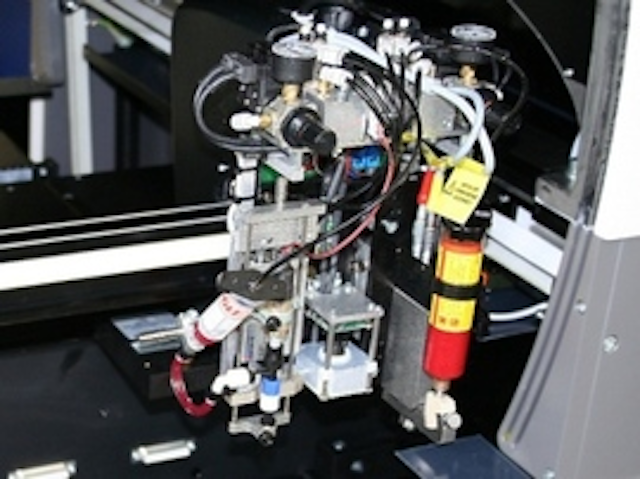 Date Announced: 17 Jul 2009
The FLX2011-MK, Essemtec's production center for flexible circuits and membrane keyboards, is now equipped with a jet valve dispensing system, allowing it to place smaller SMD components and LEDs on flexible circuits. The jet valve dispenses small glue dots more accurately and faster than others, and is contactless.
The FLX2011-MK assembles complete flexible circuits. The machine dispenses glue, solder paste or conductive adhesives, and it places SMT components, LEDs and snap discs (metal domes) for membrane keyboards — all within one machine.
One of the two dispensers of the FLX2011-MK is now a jet valve dispenser, featuring contactless metering of the adhesive. It meters small dots faster and more accurately than others because it "shoots" the dots instead of "pulling them off," which is common for needle dispensing. The higher accuracy of the dots enables the placement of smaller components such as 0603 chips or below.
The second dispenser of the FLX2011-MK may be an Archimedean screw dispenser, which satisfies the requirements of conductive adhesive or solder paste dispensing. However, this dispenser also may be a time/pressure dispenser, a Piezoflow valve or another Jet valve — the customer can choose depending on the specific application.
The assembly head of the FLX2011-MK features an optical centering system that can align SMD components, LEDs and metal domes. Therefore, all dispensing and placement required for flexible circuit production can be accomplished using one system, and the foils do not have to be moved. Production of double-sided flex boards also is possible.
During production, the foils are held in position by a vacuum table. Its working area measures 500x300 mm, with a large support area of 800x300 mm. Smaller foils can be clustered and be produced like a single foil. The integrated vision system automatically finds reference marks and corrects offset and distortion.
There are two alternatives of the vacuum table: One larger, featuring a working area of 800x600 mm, and a twin vacuum table. The twin vacuum table is double the size of the single and is movable, thus one half of it is always outside the machine where the operator can load and unload foils.
Swiss manufacturer of machines Essemtec is the leader in the branch of flexible production systems for the industry. Essemtec has developed, fabricated, and distributed equipment and machines for all processes of electronics manufacturing — printer, dispenser, pick-and-place and solder systems — since 1991. Manual, semiautomatic and fully automatic systems are available. Transportation and storing systems also belong to the range of products as well as software solutions for the planning, simulation, optimizing and documentation of the fabrication. All systems of Essemtec are optimized on maximum flexibility. Users can adapt from one product to the next as quickly as possible while simultaneously taking advantage of the optimal production capacity.
Contact
Essemtec AG Mosenstrasse 20 CH-6287 Aesch/LU Switzerland Phone: +41 (0)41 919 60 60
E-mail:info@essemtec.com
Web Site:www.essemtec.com