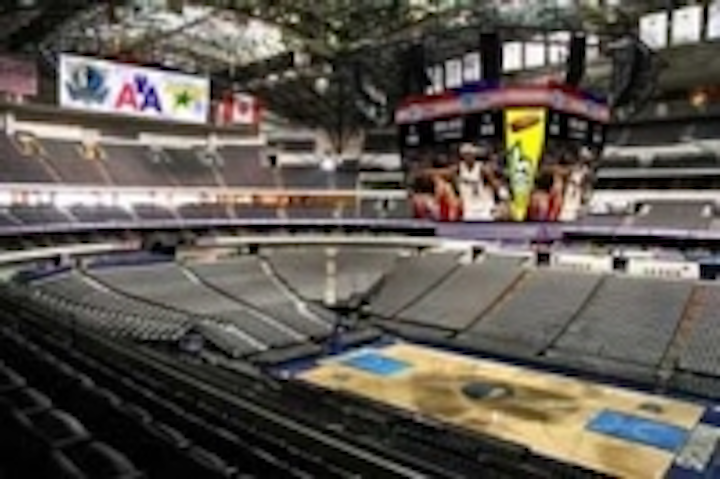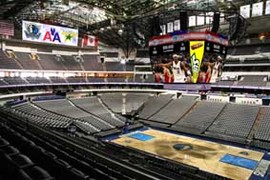 Date Announced: 30 Jul 2009
Dallas, TX -- Installation has begun on the first 1080x1920 high definition video screen in an NBA or NHL facility. The Lighthouse LED screens are part of a large scale technological renovation project at the American Airlines Center in Dallas. The new digital screens will increase video throughout the facility by 300 percent.
Working with long time partner TS Sports, 25 Lighthouse LED screens, including four 1080p full HD screens on the center hung display, will be installed at the facility. The upgrade will be completed over the summer for the 2009-2010 Dallas Mavericks' and Dallas Stars' seasons.
To bring Dallas sports fans the most intense excitement at every game, the center-hung display will comprise four Lighthouse P4 4mm screens, each producing 1080p Full HD images with superior sharpness and clarity. The center-hung display also will include four P10 10mm scoring screens and two P16 16mm screens, an octagonal and a round-shape advertising screens on the top and bottom sections, providing spectators with dramatic instant replays, important scoring information and dynamic ad content in bright, vivid color and ultra-sharp detail.
Two stadium sized 20mm video screens have been installed, one at each end of the arena. Three times larger than the previous screens, every fan will have a stunning view of the on demand statistics and high resolution action.
For hockey and basketball games, two screens comprising P10 10mm panels will be placed along the dasher boards, where they will display advertising content to arena and TV audiences alike.
Circling the entire perimeter of the arena will be a huge 360 degree, F20 20mm fascia banner, to be installed on the Platinum level boards, and another ten F20 banners will be added to the Flagship level boards below. Each banner will display dynamic advertising content clearly visible from any seat in the arena.
"We promised our fans that the American Airlines Center will be the most technologically advanced sports facility, and Lighthouse and TS Sports stuck out as the obvious choice for making this happen," says Brad Mayne, president of the Arena Center Operating Company.
"Lighthouse and TS Sports showed us they have the experience and expertise to pull this huge project together, and get it done on time. Now every Dallas sports fan will be able to enjoy the Mavs and Stars like they've never enjoyed them before."
Combined with American Airlines Center's new state-of-the-art audio system with special audio effects that will deliver rich, digital concert quality sound, the new Lighthouse screens are anticipated to add a serious boost of adrenaline and excitement to every basketball and hockey game in the years to come.
"It has been a pleasure working with American Airlines Center on devising the right LED display solution for their needs," says Ed Whitaker, director of sales at Lighthouse. "Our experience and expertise has helped us become the leading provider of LED screens in the US sports market."
Lighthouse Technologies
Lighthouse Technologies Limited is a global leader in LED display technology that develops, manufactures, and markets LED video display solutions for multiple indoor & outdoor applications, media and entertainment events, and sports arenas across the globe. With numerous technological breakthroughs to its name, Lighthouse has established itself as a multi award-winning leader in the LED display industry that holds itself to the highest standards of quality.
Founded in 1998, Hong Kong-based Lighthouse has a strong global presence with regional offices in Europe, North and South America, the Asia Pacific and China. Employing the most advanced technology, the highest quality manufacturing facilities, and world-class, round-the-clock technical support, Lighthouse satisfies customers on every major continent, captivating the imagination of millions.
Contact
Lighthouse Technologies Limited Jason Skillicorn/Anita Leung Tel: (852) 2192 1688 Fax: (852) 2423 1092
E-mail:info@lighthouse-tech.com
Web Site:www.lighthouse-tech.com