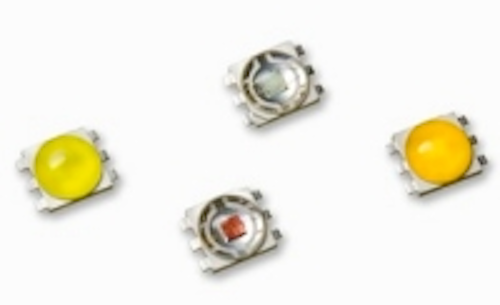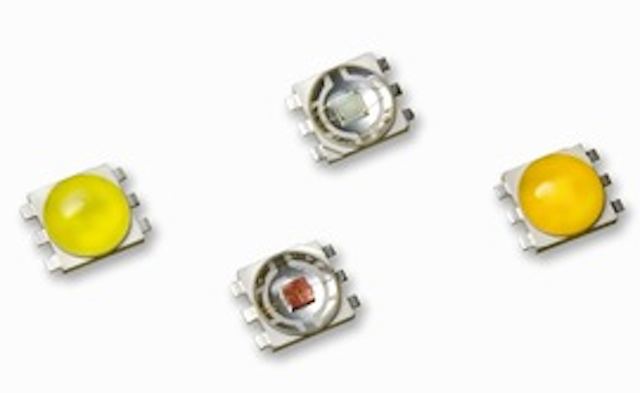 Date Announced: 01 Jul 2009
New Competitively Priced LED Features Small Footprint, Robust Package Design, High Flux Output, and Extended Operating Life
Böblingen, Germany - Avago Technologies, a leading supplier of analog interface components for communications, industrial and consumer applications, today announced one of the industry's smallest high-brightness 3-Watt LEDs for use in a wide range of solid-state lighting applications. With dimensions of 5 mm by 4 mm by 1.85 mm thick, Avago's new compact 3-Watt (3W) ASMT-Jx3x is packaged in a small outline package (SOP) and capable of being driven to up to 700 mA to provide high flux output performance.
Additionally, this compact LED emitter provides a wide viewing angle, has moisture sensitivity level-one (MSL 1) capability, and is very reliable. This competitively priced 3W LED emitter is ideal for use in lighting applications where space is constrained. Typical applications include portable lighting appliances, street lighting, architectural facade lighting, retail display lighting, backlighting and a wide range of specialty lighting applications.
Despite its compact size, the ASMT-Jx3x provides a maximum viewing angle of 165-degrees to meet the needs of designers who require good color and light output uniformity in their lighting applications. Avago's ASMT-Jx3x is a high performance LED designed to handle high thermal and high drive currents. By delivering a high flux output of up to 160 lumens (lm) at 700 mA, this LED features a maximum allowable junction temperature of 135 degrees-C and high Electrostatic Discharge (ESD) resistance of 16 kV which makes this LED insensitive to ESD.
As a result, special ESD protection equipment is not required to handle the part during installation. Moreover, this 3W LED is compatible with standard SMT reflow soldering processes and helps lower design cost while providing lighting designers with more freedom and flexibility in designing their applications.
Features
* Available in full colors. For example: Red, Red Orange, Amber, Green, Blue, Royal Blue, Cool White, Neutral White and Warm White colors
* Small footprint and low profile
* Silicone encapsulation
* Compatible with reflow soldering processes
* Electrically isolated heat sink
* Long operating life
* Energy efficient
* Low thermal resistance
* Moisture sensitivity: MSL 1
* Pb-Free and RoHS compliant
Availability
Samples and production quantities are available now through Avago's direct sales channel and worldwide distribution partners.
About Avago Technologies
Avago Technologies is a leading supplier of analog interface components for communications, industrial and consumer applications. By leveraging its core competencies in III-V compound and silicon semiconductor design and processing, the company provides an extensive range of analog, mixed signal and optoelectronics components and subsystems to more than 40,000 customers. Backed by strong customer service support, the company's products serve four diverse end markets: industrial and automotive, wired infrastructure, wireless communications, and computer peripherals. Avago has a global employee presence and heritage of technical innovation dating back 40 years to its Hewlett-Packard roots.
Contact
Avago Technologies Literature Service Ref.-Nr.: PRAV09035 Postfach 2260 D-35532 Wetzlar Fax: +49 (0) 64 41 / 92 46 46
E-mail:info@promotionteam.de
Web Site:www.avagotechlighting.com