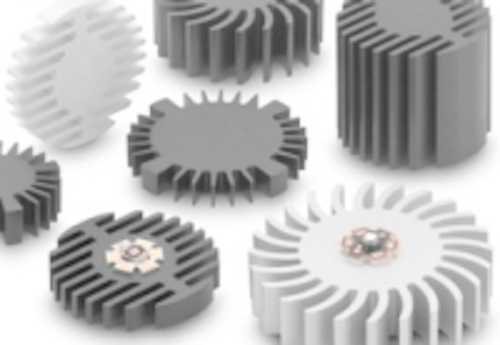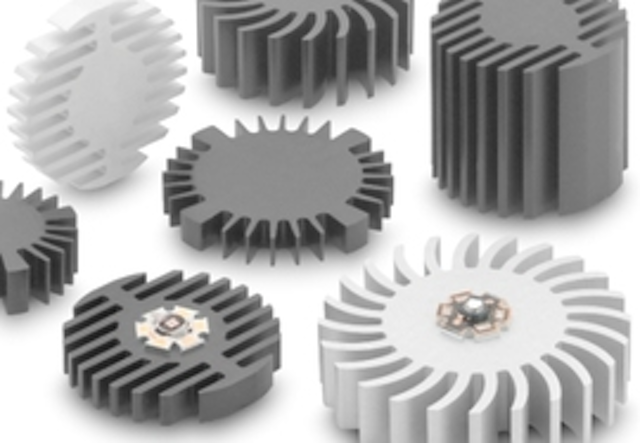 Date Announced: 13 Jul 2009
High Power LEDs (HP) and High Brightness LEDs (HB) for lighting purposes offer great opportunities for the lighting industry, as LEDs are energy-efficient and potentially highly reliable.
In view of the high power density of these HP/ HB LEDs the major challenge is safe and effective heat dissipation, in order to ensure trouble free functioning, good light yield and a long service life.
The shape of lamp housings or the positions in which they are situated is often rotationally asymmetric, so that round bodies are required for heat dissipation.
In order to dissipate the heat from these LEDs, Fischer Elektronik have developed a range of aluminium heatsinks the dimensions of which match the majority of current round housing designs.
These heat sinks, which are offered with different diameters and contours, are available in different sections of different lengths to suit specific heat dissipation applications.
The LEDs are fastened onto the heat sink using thermally conductive, double sided adhesive tape, 2-component thermally conductive adhesive or screws. In the standard version, the surface is black anodised or of natural colour.
In addition to standard heatsinks, specially modified and customized versions are developed and manufactured.
Contact
Fischer Elektronix Tel: +49-2351-435-0 Fax +49-2351-435185
E-mail:info@fischerelektronik.de
Web Site:www.fischerelektronik.de