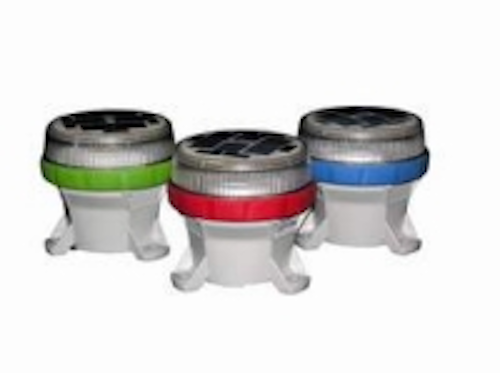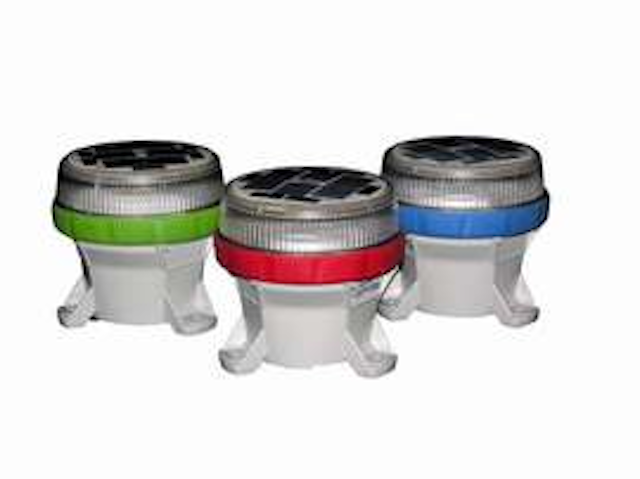 Date Announced: 22 Jul 2009
VICTORIA, BRITISH COLUMBIA, CANADA -- Carmanah Technologies (TSX: CMH) today introduced its most versatile and highest value solar-powered light to date: the A650 aviation and obstruction light.
Featuring a groundbreaking user interface, replaceable battery pack, intelligent-deployment capability and up to 10 candela of intensity (steady-on), the A650 is ideal for taxiway and apron-edge lighting, emergency airfield and helipad lighting, airfield construction barricade lighting, and obstruction lighting.
Free from wiring or external power requirements, the self-contained A650 aviation light combines a quick and easy installation with impressive versatility and ease of use. A sophisticated on-board interface provides convenient access to configurable settings such as intensity levels and flash codes, while a built-in system status capability indicates overall battery health and geographical location (latitude and longitude).
An intelligent-deployment feature enables the A650 to automatically adjust its optical intensity to suit the solar characteristics of its exact geographic location — an industry first.
Incorporating an efficient optical design for maximum visibility, the A650 light includes more than 250 flash patterns, and can be ordered in a choice of blue, red, yellow, green or white light outputs. With no bulbs to wear-out, the LED-equipped A650 offers years of reliable, maintenance-free operation, and the replaceable battery pack can extend the product's service life beyond five years for considerable cost savings over time.
As an environmentally responsible alternative, the solar-powered A650 aviation light is assembled with safe, recyclable materials in strict accordance with the European Union's guidelines for the Restriction of Hazardous Substances in electronic equipment (RoHS). Long-term durability, reliability and performance are assured by a three-year product warranty.
Designed to meet applicable ICAO and photometric FAA L-861T Taxiway specifications, the A650 light is suitable for permanent primary lighting, temporary lighting during airfield construction or upgrades, emergency backup lighting, or expedited portable lighting for quick deployment during emergency or humanitarian-aid operations. Designed and tested to the toughest industrial and military standards, Carmanah solar-powered lights ensure a dependable year-round solution.
Industry proven for reliable operation in a range of environments, Carmanah solar-powered LED aviation lights are installed at some of the world's busiest airports, including Chicago O'Hare International Airport, Dubai International Airport, Gatwick International Airport, Singapore Changi International Airport and Toronto Pearson International Airport.
The Carmanah A650 solar-LED light is available now from Carmanah Technologies. For more information, visit http://www.carmanah.com/Products/Aviation_Obstruction/A650.aspx
About Carmanah Technologies Corporation
As one of the most trusted names in solar technology, Carmanah has earned a reputation for delivering strong and effective products for industrial applications worldwide. Industry proven to perform reliably in some of the world's harshest environments, Carmanah solar LED lights and solar power systems provide a durable, dependable and cost effective energy alternative. Carmanah is a publicly traded company, with common shares listed on the Toronto Stock Exchange under the symbol "CMH". For more information, visit www.carmanah.com
Contact
David Davies direct: 250.382.4332
E-mail:ddavies@carmanah.com
Web Site:www.carmanah.com